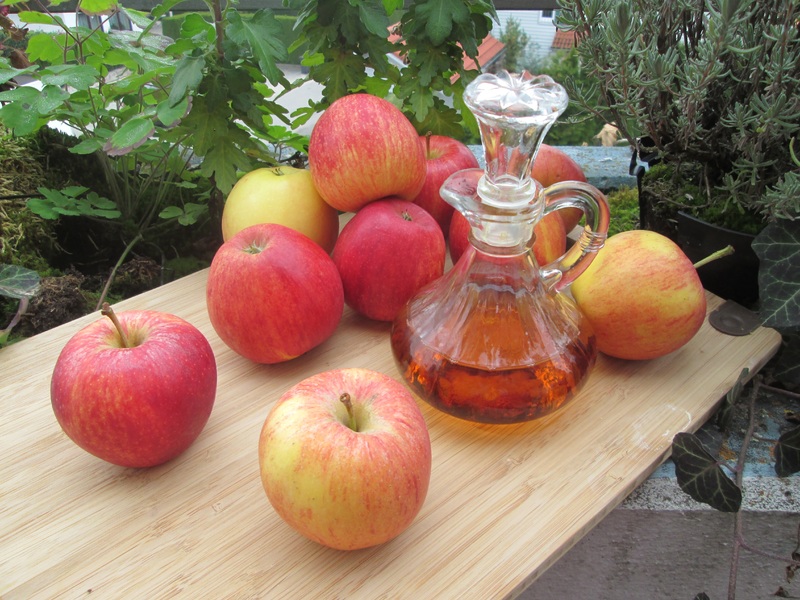 Ocet jabłkowy ma różnorodne zastosowanie. Jest świetnym produktem sprawdzającym się nie tylko jako środek spożywczy, ale też kosmetyczny. Jego konsystencja jest mętna, a kolor ciemnopomarańczowy. Ocet jabłkowy posiada właściwości lecznicze, co potwierdzono naukowo i ma bardzo mało kalorii. Zawiera zauważalną ilość potasu, działa przeciwdrobnoustrojowo i eliminuje niektóre szczepy bakterii. Ocet wykorzystuje się w leczeniu grzybicy paznokci, wszawicy, jak również brodawek oraz infekcji uszu. Ojciec medycyny starożytnej – Hipokrates używał go do oczyszczania ran.
Wspaniale sprawdza się w procesie wydłużenie trwałości jedzenia. To naturalny konserwant. Dla tych, którzy zmagają się z podwyższonym poziomem cukru bardzo pomocne będą jego cudowne właściwości, dlatego zalecany jest osobom chorym m.in. na cukrzycę, zwłaszcza typu drugiego, charakteryzującą się podwyższonym poziomem glukozy we krwi, co jest wynikiem insulino-oporności jak też niezdolnością do wytwarzania insuliny. Wysoki poziom cukru we krwi przyspiesza procesy starzenia, oraz chorób przewlekłych. Zaleca się zażywanie 2 łyżek stołowych octu jabłkowego przed snem.
Ocet jabłkowy pomaga w utracie zbędnych kilogramów. Wywołuje uczucie sytości, a ponad to nie powoduje on skoków insuliny po spożytych posiłkach, a tym samym odkładania się w postaci tkanki tłuszczowej. Badania wykazują, że regularne spożywanie octu jabłkowego redukuje tkankę tłuszczową zgromadzoną wokół brzucha, obniża też poziom trójglicerydów, a spadek masy ciała wynikający z picia 2 łyżek stołowych (rozcieńczonych szklanką wody) wynosi 1,7 kg.
Kolejną zaletą octu jest korzystny wpływ na serce. Chroni organizm przed chorobami serca, naczyń krwionośnych, zmniejsza ryzyko udaru mózgu. Kwas zawarty w occie jabłkowym chroni cząstki cholesterolu LDL przed utlenieniem i obniża ciśnienie krwi. Ocet może też chronić przed chorobami nowotworowymi, co wykazały niektóre badania, przeprowadzone na zwierzętach, a także w warunkach laboratoryjnych. Można go dodawać do dań, sałatek, czy majonezu. Nie wolno przekraczać zalecanej dawki dziennej.
W kosmetyce ocet świetnie sprawdza się jako odżywka do włosów, poprawiając ich kondycję, nadając blasku i miękkości, ułatwiając rozczesywanie. Polecany głównie tym, którzy cenią produkty naturalne, wolne od chemikaliów i sztucznych składników.