Emilian Kamiński to nie tylko znakomity aktor i reżyser, ale także wspaniały człowiek, założyciel Fundacji Atut i Teatru Kamienica, którego jest dyrektorem. Jego dorobek obejmuje ponad setkę ról teatralnych, filmowych i musicalowych. Emilian Kamiński z wyróżnieniem ukończył warszawską Państwową Wyższą Szkołę Teatralną. Obok twórczego usposobienia i talentu, który wielokrotnie przejawiał się w jego karierze zawodowej artysta jest osobą o wielkiej empatii i szczególne znaczenie w jego życiu ma pomaganie potrzebującym. O jego dużym potencjale tworzenia rzeczy niebanalnych, wartościowych i zawsze aktualnych oraz ogromnej wrażliwości zarówno w czasie pracy jak i w życiu prywatnym czytamy w poniższym wywiadzie, dziękując jednocześnie za ciekawą i rzeczową rozmowę, a przede wszystkim poświęcony nam czas.
Część I
MP: Dzień dobry Panie Emilianie.
EK: Witam najuprzejmiej.
MP: Bardzo się cieszymy, że znalazł Pan dla nas czas. Chcielibyśmy poruszyć kilka tematów, które interesują naszych czytelników. Pytania są zebrane z kilku źródeł, nadesłały je różne osoby. Nawiązując do Pana prośby będziemy unikali pytań politycznych. Nie będziemy dzielić, ponieważ zależy nam na znalezieniu tego, co wspólne zarówno dla ludzi z prawicy jak i z lewicy.
EK: Jak Pan podkreślił w pytaniu – "żeby nie dzielić". To naprawdę poważny problem. Przecież, jeśli żyjemy w jednym kraju, to pomimo różnych poglądów politycznych powinniśmy ze sobą rozmawiać, starać się porozumieć, a nie dzielić. Niestety w świadomości społecznej przeciętnego Polaka zakorzenił się ten podział. Nie musi tak być, nie powinno. Polska zawsze była krajem bardzo tolerancyjnym dla ludzi dla siebie, dla różnych religii, dla różnych poglądów. Dlatego mnie to od razu zabolało. Ja Osobiście jestem człowiekiem zgody. Rozmawiam z każdym. Nie ma takiej możliwości, żebym nie porozmawiał. Jeśli ktoś ma inne poglądy na jakąś sprawę, to fajnie, ja chętnie posłucham jego poglądów. Nie zmienia to mojego szacunku dla tego człowieka, on ma po prostu inne poglądy.
MP: Podzielam Pana zdanie. Ja również podchodzę z szacunkiem do każdego człowieka, rozmawiam z każdym. Mam wielu znajomych, czy to po prawej czy po lewej stronie. Niestety ta polaryzacja gdzieś tam jednak zachodzi. Podejrzewam, że w sztuce jest to też zauważalne.
EK: Od razu Panu odpowiem. Do mojego teatru bilet kupuje każdy kto chce. Na scenie ja prezentuję swój pogląd na życie. Mój pogląd na życie polega na tym, że staram się robić rzeczy w tym teatrze, które nie odbierają ludziom chęci do życia. Jeśli nawet są to rzeczy dramatyczne, np. w misyjnych przedstawieniach takich jak: "Dopalacze", czy "My dzieci z dworca zoo" o narkomanii, czy też spektakle dla dorosłych takie poważniejsze bardziej dramatyczne, to są one wszystkie tak stworzone, że staram się, żeby człowiek podbudował się na tym przedstawieniu, żeby treść spektaklu nie odebrała mu to chęci do życia. Ponieważ jestem sybarytą, ja lubię życie, w związku z tym chciałem, żeby taki był mój teatr. Co się z tym wiąże – wszelkie frustracje, jakie są, zawirowania polityczne, poglądowe, tutaj nie mają miejsca. Tu jest po prostu tak, że kupiłeś bilet, przyszedłeś sobie najpierw do restauracji Nasza Warszawa, w której teraz jesteśmy, zjadłeś coś, posiliłeś się tym co nasza moja kuchnia przygotowała i potem idziesz na spektakl. Tam dostajesz to, co ma być oczywiście obiektywne, a że nie jest to łatwe jakby to powiedzieć, to przynajmniej niech będzie subiektywnie strawne. Teatr jest takim miejscem, które powinno otwierać, a nie zamykać. Powinno stwarzać atmosferę komfortu. Pokazywać jakiś rodzaj spojrzenia na świat a nie oślepiać. Każdy ma prawo przyjść, kto się umie w teatrze zachować. Ma prawo przyjść i w nim być. To jest bardzo ważne, żeby właśnie nie dzielić, tylko łączyć. Teatr, scena – to wszytko ma ludzi łączyć.
MP: Ostatnio czytałem jeden z Pana wywiadów o polskiej kulturze. Jak Pan rozumie polską kulturę, czy też jej unikalność w stosunku do innych kultur?
EK: No to jest sprawa naszej tradycji, historii i oczywiście naszego języka. Ja bym to powiedział tak. Mówi się o poetach, że w poezji cierpienie uszlachetnia. Prawda? Być może, jeżeli można by tak spersonifikować Polskę, to to jest taki naród, Polska to jest taki twór, który dużo wycierpiał. W związku z tym wiersze, które piszę, ten naród pisze mają dodatkową wartość. Bo cierpienie jak mówią uszlachetnia. Wydaje mi się, że ten naród potrafi być szlachetny, czego dowiódł nie raz. Z drugiej strony oczywiście jest wiele takich niepokojów, które mogą zastanawiać. W sumie, jak patrzę na naszą kulturę, to jest to coś z czego możemy być zdecydowanie dumni. Z tego jak ona wyglądała, jak się rozwijała, jaka jest. Możemy być na prawdę z tego dumni.
MP: Jakie pytania się najczęściej pojawiają w Pana wywiadach?
EK: To zależy, wie Pan. Pytania są różne. Ja nie na wszystkie odpowiadam. Nie lubię pytań osobistych, na przykład. Osobiste pytania nie mają dla mnie żadnego znaczenia, moje życie osobiste czy jakieś tam moje hobby. Dla mnie znaczenie ma to, co ludzie odbierają z mojej pracy. I dlatego zawsze proszę o tego rodzaju pytania. Jest na przykład taki temat jak wpływ życia rodzinnego na coś tam. Ja nie chcę na ten temat mówić. Nie chcę, dlatego, że to jest takie rozdrabnianie włosa na czworo. Istotne jest w teatrze, dla dyrektora, który ten teatr prowadzi, który go sam wybudował, stworzył z udziałem wielu ludzi. Istotne dla mnie jest to, co się tutaj dzieje. A to, co jest u mnie w domu, w Józefowie i tak dalej, to jest istotne tylko dla mnie. Nie chcę tego mojego życia rozdawać. Niejednokrotnie rozdawałem i wcale nie byłem z tego zadowolony.
MP: Jan Paweł II bardzo pięknie powiedział, że do naszej prawdy nie każdy ma prawo.
EK: O brawo. Jan Paweł II bardzo wielki, bardzo wielki umysł. Wie Pan, że był aktorem u Kotlarczyka?
MP: Tak, oczywiście. Również poetą. Początki już w czasie II wojny światowej.
EK: Naturalnie. To wspaniała postać. Wspaniały człowiek. Nad-człowiek
MP: Trzy lata temu w hotelu Sheraton otrzymał Pan statuetkę Magazynu VIP za całokształt Pana działań artystycznych. Czym są dla aktora, dyrektora teatru takie wyróżnienia?
EK: To jest taka miła świadomość, że ktoś zauważa moje działania, prawda. Bo jeżeli nie ma takich sygnałów, to mogłoby się wydawać, że działania i wysiłki człowieka w jakiejś gęstwie giną. A czasem się okazuje, że nie, że ktoś je zauważa. Dla mnie – znowu wracam do teatru – najlepszą nagrodą jest pełna sala widzów. Mówię poważnie. Kiedy mam pełną salę i widzę ludzi przed sobą, kiedy kończy się spektakl. Oni często wstają, śmieją się do mnie, rozmawiają ze mną. Mówią, że to co widzieli było niezwykłe, że było to jakieś święto dla nich. Dla mnie też jest świętem każdy spektakl. I to jest dla mnie największa satysfakcja. Ale oczywiście, jeśli ktoś zauważa moją skromną osobę, jak tutaj, to też jest mi bardzo miło. Dostałem sporo, przepraszam za brak skromności, wyróżnień, nagród, orderów. Mam tego strasznie dużo. Jest taka szafka na dole, gdzie to wszystko się zgromadziło i przestaje się już mieścić. To jest znak, że ludzie to widzą. Ale, żeby na przykład tak trochę dziegciu dolać, trochę mnie zabolało, że zrobiłem za własne pieniądze makietę przedwojennej Warszawy. Dzieło sztuki po prostu. Nie wiem czy Państwo widzieli. Trzydzieści metrów kwadratowych. Mam tutaj zdjęcia. Proszę bardzo, zobaczcie Państwo. To miniatura Warszawy, to jest dzieło sztuki. To jest duży kawał Śródmieścia. Zrobiłem to dla mojego miasta, tak jak ten teatr i… nawet nikt z władz nie powiedział mi dziękuję.
MP: Gdzie to teraz jest?
EK: To jest tu w teatrze, to jest nasza chluba, ludzie przychodzą, oglądają, przychodzi młodzież na takie wycieczki po przedwojennej Warszawie. Nie robiłem tego, żeby mi ktoś dziękował, ale może by wypadało chociaż powiedzieć, że za własne pieniądze człowieku zrobiłeś coś takiego. Pracowało nad tym dwoje ludzi przez dwa lata. To ogromny wysiłek i ogromne pieniądze. To kosztowało 300 000 złotych. Na 100 000 znalazłem sponsorów, a resztę musiałem pokryć z własnych pieniędzy.
MP: Warto to nagłaśniać, promować.
EK: No warto, warto. Jest piękny film o tej makiecie. To jest takie ukoronowanie tej ewidentnej warszawskości mojego tego teatru. Tu jest restauracja Nasza Warszawa. To wszystko jest jak stara Warszawa, ten tramwaj Berlinka przed teatrem też jest zabytkiem, ma 83 lata. Ja też już jestem trochę zabytkiem (śmiech).
MP: Aż tak to nie wygląda (śmiech). Ja pamiętam ten okres, kiedy spotkaliśmy się chyba ze trzy lata temu w Klubie Integracji Europejskiej, kiedy miał Pan chwilowe kłopoty z lokalizacją teatru.
EK: To nie były chwilowe kłopoty. To się zaczęło i trwało przez cztery lata. Weszli ludzie, którzy zakłamali dokumenty. Tak, jak ta reprywatyzacja w Warszawie. Na tej samej zasadzie, tylko trochę innym sposobem. No i chcieli mnie wyrzucić po prostu. Chcieli przejąć teatr, przejąć tę kamienicę w ogóle. No to jest ogromy majątek miasta, prawda. I im się udawało.
MP: Jako Warszawiak też oddałem jeden głos w obronie Pana Teatru.
EK: Tak, właśnie dzięki temu, że poszło to w media, obroniłem się. Bo tak to by mnie zeżarli po prostu.
MP: Obecnie skutkiem tych dzikich reprywatyzacji 40 000 ludzi jest na bruku.
EK: 55 000 tysięcy.
MP: O czym chciałby Pan powiedzieć, co często jest pomijane, a o co nie jest Pan pytany w wywiadach?
EK: Chciałem powiedzieć o sytuacji ludzi bezdomnych w Warszawie. To mnie bardzo interesuje i bulwersuje. I chciałbym, żeby o tym usłyszeli urzędnicy warszawscy, że trzeba z tym zrobić jakiś porządek. Trzeba nareszcie zająć się ludźmi, którzy nie potrafią się upomnieć o swoje. A ja się o nich upominam. Dlatego, że sytuacja bezdomnych jest gorzej niż tragiczna. Te całe noclegownie, to wszystko to jest jedna wielka ściema. To jest temat, który jest rzucany pod dywan. A może nawet nie pod dywan. Jest tam gdzieś zasypywany. I wydaje mi się, że jeżeli mogę o czymś powiedzieć, to właśnie o tym chciałbym. Że to nie jest w porządku. Przypominam, że w Warszawie w 1932 roku już było miasteczko dla bezdomnych vis-a-vis dzisiejszej Arkadii. Po drugiej stronie torów było miasteczko na 22 000 łóżek.
MP: To bardzo dużo.
EK: Miasteczko dla bezdomnych. Gdzie wszystko było zorganizowane. Już w 1932 roku.
MP: Edward Wedel też trochę pomagał bezdomnym.
EK: Absolutnie. Przecież Ci bezdomni obecnie to są normalni ludzie. Jest ich coraz więcej, ja mam wciąż nowych ludzi także z dzikiej reprywatyzacji. Stracili mieszkania i nie mając środków do życia poszli na ulicę. Ale nie mogą iść na ulicę tacy ludzie, tylko powinni iść do specjalnie przeznaczonych dla nich domów. Tak się mówi, że to jakiś tam bezdomny. To są normalni ludzie. To tylko życie spowodowało, że oni żyją w strasznym ubóstwie. Uważam, że należy się tym zająć w sposób zorganizowany, systemowy. Przypominam o przedwojniu. Powinien być system, system opieki nad ludźmi, którzy są bezdomni. To jest moja prośba do władz. Już nie proszę o to, żeby wspomóc mój teatr, bo jestem bez dotacji. Miasto się tym nie interesuje. Kiedyś się interesowało. No ale w tej chwili nie. Kiedyś mi miasto bardzo pomagało, a w tej chwili żadne inicjatywy, z którymi wychodzę, nie spotykają się z jakąkolwiek aprobatą. Czy takie miasto ma program? Trudno. Ja zajmuję się promocją Warszawy, krzewieniem kultury już od dziewięciu lat tutaj, w tym miejscu w Kamienicy. Chciałbym zatem nieśmiało przypomnieć moją skromną inicjatywę, osobę. Ale to nie jest dla mnie najważniejsze i też chciałbym prosić o pomoc dla bezdomnych. Sami się nimi zajmujemy choć jest nam ciężko.
MP: No właśnie. Jak wygląda sprawa Wigilii, które Państwo w teatrze organizujecie?
EK: To nie tylko Wigilie, bo organizujemy dużo różnych wydarzeń. Na Wielkanoc bezdomni także przychodzą. I były tu szczepienia dla bezdomnych. I nawet spektakl zrobiłem z nimi, Bezdomna Pasja taka. Parę lat temu. To są takie spotkania zwłaszcza w zimie, kiedy jest po prostu zimno. Ludziom stwarza się tutaj warunki, żeby mieli taką normalną wigilijną kolację. Żeby parę godzin tu spędzili. Dostają prezenty, śpiewamy kolędy. Kiedyś pewien bezdomny powiedział coś, że mi się zrobiło trochę przykro, że on mi dziękuje, bo ja im przypominam, że oni są ludźmi. Strasznie bolesne było to wyznanie. Ja mu odpowiedziałem, że nie chcę im tego przypominać, że oni sami muszą o tym pamiętać. Rozumie Pan. To mnie zabolało. To jest na prawdę smutne. Tu przychodzi kilkaset osób. Na raz to przychodzi 150-200 osób. Kiedyś było 350, no to już nie daliśmy rady. Ale tak uważam, że tak należy. Że to są też normalni ludzie. W ubiegłym roku zorganizowaliśmy dla nich fajne nawet nowe ubrania. Zrobiliśmy tutaj dosłownie rewię mody. Caritas mnie wspomógł. Dali mi piękne całe ubrania. Każdy z bezdomnych wychodził zachwycony. Z Caritasem współpracujemy. I też z księdzem Krzysztofem Sosurem z kościoła na Żytniej. Był aktorem. Skończył szkołę teatralną i był trzy lata aktorem. Później poczuł powołanie i teraz jest wspaniałym kapłanem.
MP: Czego by Pan życzył naszych czytelnikom i ludziom żyjącym we współczesnym świecie?
EK: Żeby zaczęli ze sobą rozmawiać. Żeby przestali mówić, a zaczęli rozmawiać. Oczywiście poza życzeniami zdrowia, spokoju, ponieważ żyjemy w społeczności. Mój teatr, to jest taki teatr, który chce rozmawiać. Nie mówić, tylko rozmawiać. Wchodzić w dialog. Rozmowa to jest – ja szanuję Ciebie, Ty szanujesz Mnie. I rozmawiamy na jakiś temat, który ma znaczenie. Nie jest tylko pustym obgadywaniem czegoś, tylko ten temat ma znaczenie. Tego nam jest brak. Bo wszystkie konflikty można poprzez rozmowę uspokoić. Przecież ja mam tutaj mnóstwo ludzi na etatach którzy mają różne zdania. Jakże często się przekonywałem, że poprzez normalną, spokojną rozmowę, uzyskuje się konsensus bardzo szybko. Poprzez niedomówienia, podgadywania robią się konflikty, które później idą jak powódź, którą w ogóle już trudno zatrzymać. Dlatego trzeba po prostu rozmawiać. To jest to, żeby rodzice mieli czas dla dzieci. Żeby dzieci miały czas dla rodziców. Żeby ten cholerny komputer i gry przestały być święte. Tego dzieciom życzę. Żeby nauczyły się, że to nie jest świętość. To komputer to nie jest Bóg. A dzieci traktują to jako Boga. Znam bardzo wiele dzieci, dla których smartfon i komputer są podstawą wartości na świecie. Nie ma nic ważniejszego. Zwróćcie na to uwagę. Dlatego robimy teraz spektakl. Ta sama ekipa, która robiła "Dopalacze" szykuje spektakl o cyberzagrożeniach. Cyberzagrożenia to obecnie bardzo wielki problem. Uzależnienie od wszelkich tego typu urządzeń.
Pamiętam taką sytuację. Spaceruję po plaży i na kocu siedzą trzy młode dziewczyny, 17-to może 18-to letnie. Widać mewy, zachód słońca, fale, etc.. No jest pięknie. Bałtyk jest, jak każde morze, śliczny. Nie ma co gadać. Myśmy stali ze znajomymi z otwartymi ustami, a one był cały czas, uwierzcie, one były cały czas w swoich komórkach. Żadna się nie oderwała, cholera, ani na chwilę. Mnie to zaciekawiło. Jak kury dziobały w klawiatury telefonów. No Boże kochany, toż to jest kompletne odmóżdżenie. To jest do leczenia. Kim one są? Cyberniewolnikami? Więźniami jak w świecie Orwella? Że wszystko się filmuje i klika. I to teraz jest jeszcze gorsze, niż to przedstawił właśnie Orwell.
MP: Ja miałem podobny problem przez chwilę z moim synem, ale kilka męskich rozmów na argumenty pomogło.
EK: Brawo. Właśnie takich rozmów bym życzył rodzicom, żeby ich było na to stać, żeby umieli się temu przeciwstawić. Nawet zabrać i schować albo wyrzucić i niech przez jakiś czas płacze. Niech to kosztuje, ale więcej strat będzie przez używanie tych urządzeń niż z wyrzuconych pieniędzy. To trzeba używać jako narzędzie, ale to nie może stać się panem. Cóż za dziwne życzenia, prawda? Żeby narzędzie przestało być panem dla młodych ludzi. Przecież to niszczy młodym ludziom wyobraźnię.
Dam taki przykład. Zaangażowałem młodego reżysera i dałem mu aktorów, fajną sztukę. I widzę, że nic nie robi. I cały czas opowiada jakieś wielkie teorie. Ciekawe, bo jest oczytany, ale na tej scenie nic się nie dzieje. Jak ma dwoje czy troje aktorów, to on nie umie sobie zupełnie z nimi poradzić. Nic mu ta wyobraźnia nie pracuje. Ostatecznie musiałem się z nim rozstać. Przez ten właśnie brak wyobraźni i utarte schematy i odtwarzanie. A my chcemy, żeby coś było tworzone, żeby było oryginalne. Ale on już jej nie ma, tej wyobraźni, bo się jej pozbył na rzecz odtwarzania schematów. Sam sobie zabrał indywidualność. To jest jak efekt komunizmu. Bo to wszystko jest za chwileczkę takie samo. O tym pisał jeszcze McLuhan, że świat się staje jedną wielką globalną wioską.
MP: Hofstede badając pracowników jednej z korporacji, stwierdził, że kultura organizacyjna to jest taki poziom zaprogramowania umysłów, że działają one w taki sam sposób. Tak mi się kojarzy, na bazie tego, co Pan mówi, że ludzie używając tych narzędzi informatycznych, wchodzą w tą cyberprzestrzeń. Można powiedzieć, cyberniewolę. Zaczynają być tak zaprogramowani, że chodzą jak ćmy czasami.
EK: Tak. Ale proszę zwrócić uwagę. Jeśli by to było w porządku, to niechby sobie tak chodzili. Ale zobaczmy, ilu ludziom odbija, ile mamy przez to schorzeń psychicznych, depresji, stanów maniakalnych i tak dalej. Z czego to się bierze? Właśnie z tego to się bierze. Że człowiek jest tak ciągle ściskany, aż zaczyna mu to wszystko pękać. Ja zawsze daję przykład małych dzieci. Jakby on – jakiś chłopiec – tu wszedł i nie umiał mówić, to on by tu po prostu był i żeby nie wiem co by tu było interesującego, to byśmy się od tego oderwali i patrzyli się na niego. Dlaczego on jest taki ciekawy? Bo on jest indywidualnością. Bo jest żywiołem. Być może to jest właśnie człowiekowi potrzebne, żeby był żywiołem. Ja na przykład jestem drzewny, ja lubię drzewa. Drzewa są takim przykładem osobowości. Zwróćcie uwagę. Jak drzewo stoi w jednym miejscu, czerpie z ziemi soki, a konarami czerpie z powietrza pranę. I stoi. Sto lat, dwieście, trzysta, aż nie padnie. To jest coś niesamowitego. Drzewa to są doskonałe twory.
MP: Uprzejmie dziękuję za tę część rozmowy.
EK: Uprzejmie Państwu dziękuję i zapraszam do Kamienicy, żeby spróbować to o czym tu tak dużo mówiłem jest prawdą.
Wywiad przeprowadzili:
– Marta Wdowiak
– Mariusz Paszko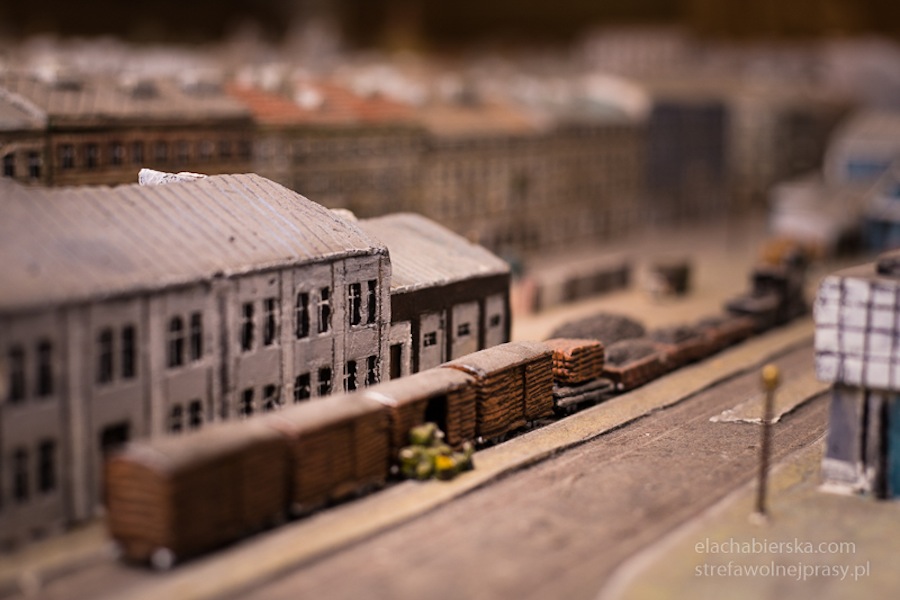 Zapisz
Zapisz
Zapisz