Pisarz, scenarzysta i dramaturg Jacek Getner znany jest jako autor licznych scenariuszy telewizyjnych takich jak "Malanowski i Partnerzy", "Daleko od noszy" czy "Klan" oraz scenariuszy do fabularnych gier komputerowych jak "Wiedźmin 2".
Prawdziwą wolność i sławę daje mu jednak pisanie powieści. Autor siedmiu tomów komedii kryminalnych o genialnym detektywie Jacku Przypadku jest laureatem licznych konkursów pisarskich i dramaturgicznych, a jego opowiadania publikowane są zarówno w lokalnej prasie jak i za granicą. A zaczęło się od miłości…
PM: Lepiej czujesz się w roli pisarza, scenarzysty czy dramaturga?
JG: Jakieś dziesięć lat temu powiedziałbym zdecydowanie "dramaturg". Moją najmocniejszą stroną był wtedy ( i chyba pozostaje do dziś) dialog i konstrukcja, a nie lubiłem tworzenia opisów. Kiedy jednak zderzyłem się z faktem, że aby sztuka na scenę, a tym bardziej scenariusz filmowy zaistniał, czyli mówiąc wprost doczekał się swojej realizacji, potrzeba jest mnóstwo szczęścia, czasu, pieniędzy, zacząłem się przepraszać z pisarstwem. Szczególnie, że zrozumiałem jeszcze jedno: tekst sztuki czy scenariusza zostaje potem przepuszczony przez wrażliwość wielu osób. Co czasem tekstowi wychodzi na dobre a czasem nie. Za to bardzo często dramaturg czy scenarzysta nie poznają na końcu swojego dzieła <śmiech>.
PM: Pisanie książek daje większą wolność?
JG: Książka daje niesłychaną wolność tworzenia. Nie ogranicza mnie budżet, mogę wymyślić dowolną ilość lokacji, tylu bohaterów ilu potrzebuje a efekty specjalne powstają w mojej głowie, więc nie trzeba za nie płacić. Dlatego teraz najbardziej odpowiada mi rola pisarza.
PM: Łatwiej jest napisać sztukę teatralną czy scenariusz do serialu?
JG: Trudno to ocenić. Pewnie dużo zależy od tego, kto pisze i w czym się lepiej czuje. Sztuka teatralna jest raczej pisana w pojedynkę. Autor ma dużą swobodę. No chyba, że to utwór zamówiony przez teatr czy reżysera. Serial telewizyjny to zazwyczaj praca zbiorowa. A już telenowela to trochę jak praca w fabryce przy taśmie, gdzie trzeba po prostu dokręcić swoją śrubkę. Ja jednak lubię bardzo to pisanie dla telewizji. Przede wszystkim pozwala mi się to z pisania utrzymywać, a po drugie nie przeszkadzają mi ograniczenia z tym związane. No i co ważne, mam świadomość, że to co napisze już wkrótce będzie realizowane. Bo jak pewnie prawie każdy twórca, nie lubię, żeby moje pisanie trafiało na zbyt długo do szuflady.
Zdjęcie: MBP Żory
PM: Wolisz pisać scenariusze do seriali dokumentalno-kryminalnych czy komediowych?
JG: Zdecydowanie wolę seriale komediowe bo z pisania takich tekstów mam największą prywatnie satysfakcję. Stąd też równo moje książki jak i sztuki mają często charakter komediowy.
PM: Obecnie piszesz dialogi do serialu "Klan". Masz swoich ulubionych bohaterów?
JG: Z racji tego, że jak wspominałem, najbardziej lubię teksty komediowe, najbliższe mi są właśnie postaci o takim potencjale. Czyli Feliks Nowak, doktor Koziełło, czy pani Surmaczowa. Nie bez znaczenia jest fakt, że role te grają fantastyczni aktorzy o których się wie, że dodadzą tekstowi coś od siebie. Dlatego lubiłem też niegdyś pisać dla Daniela Olbrychskiego, gdy jeszcze grał w Klanie bo miałem pewność, że poradzi sobie z każdym tekstem
PM: Zdarza się, że aktorzy proszą Cię o dopisanie jakichś tekstów czy ról?
JG: Tak, bardzo lubię pracować z aktorami, ale to ma właściwie miejsce tylko przy okazji sztuk teatralnych. Przy pracy nad serialami nie pozwala na to w Polsce budżet. A szkoda, bo z pewnością poprawiło by to ich jakość, szczególnie w kwestii dialogów. Aktorzy mają zawodową intuicję, która podpowiada im, jaki tekst który ładnie wygląda na papierze, nie zabrzmi dobrze w ich ustach. Dlatego lubię słuchać ich rad w tym względzie.
PM: Z jakimi teatrami obecnie współpracujesz?
JG: Od lat współpracuję przede wszystkim z teatrami offowymi i nieprofesjonalnymi. Nie jest to do końca mój wybór, ale raczej wynik tego, że współczesny teatr polski odwrócił się od bardziej klasycznej dramaturgii na rzecz postdramaturgii i teatru typu niemieckiego, w którym reżyser nie jest tylko interpretatorem tekstu, ale często jego bezpośrednim twórcą lub kreatorem. Dla mnie więc prawdziwy teatr, jaki lubię, taki który lubi opowiadać, ciekawe, zaskakujące historie, istnieje przede wszystkim poza oficjalnym nurtem. Bardzo go cenie i cieszę się, że dzięki temu mogę liczyć nawet na kilka premier w miesiącu w całym kraju.
PM: Za co najbardziej kochasz teatr?
JG: Teatr kocham za niepowtarzalną atmosferę, która pozwala uczestniczyć jednocześnie w sztuce zarówno Twórcom jak i Odbiorcom. Za jego niepowtarzalność bo ta synergia sprawia, że nie ma dwóch identycznych przedstawień bo nigdy nie gra się dla dokładnie tej samej publiczności. A i nie wszyscy aktorzy potrafią być powtarzalni. <śmiech>
PM: Jako powieściopisarz specjalizujesz się bardziej w kryminale czy political fiction?
JG: I w jednym i drugim gatunku stawiam przede wszystkim na pewne przymrużenie oka i dystans do opowiadanej historii. Ale pewnie obecnie raczej bliżej mi do autora kryminałów, a ściślej rzecz biorąc, komedii kryminalnych. Taka jest cała seria o przygodach genialnego detektywa Jacka Przypadka i taka będzie kolejna seria, która pewnie zacznie się ukazywać w kolejnym roku.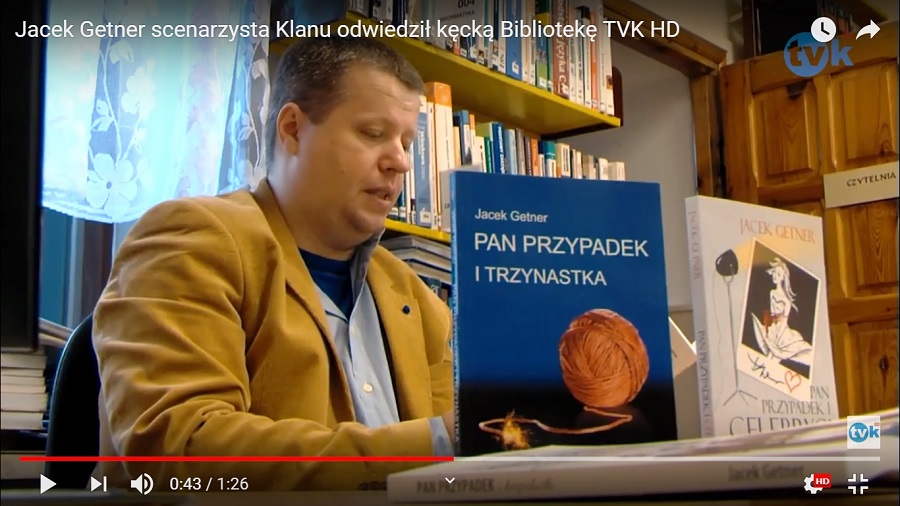 Zdjęcie: zrzut ekranu Youtube.com
PM: Pan Przypadek ma swój pierwowzór w rzeczywistości czy jest wytworem wyobraźni?
JG: Tak, w tym bohaterze jest sporo mnie samego. To zabieg dość powszechny w literaturze, gdy jeden z bohaterów jest alter ego autora. Tu jeszcze dodatkowo dochodził fakt, że miałem te serię rozplanowaną w głowie na kilkanaście książek. Dlatego musiałem mieć takiego bohatera, o którym będę wiedział jak zachowa się w bardzo wielu różnych sytuacjach. Gwoli ścisłości Przypadka łączy ze mną bardzo niewiele, jeśli chodzi o biografię za to bardzo dużo, jeśli chodzi o charakter.
PM: Detektyw przypomina bardziej Sherlocka Holmes'a czy doktora House'a?
JG: Zdecydowanie jednak doktor House, choć jak wiadomo on sam był swego rodzaju mutacją Sherlocka Holmesa. Można więc uznać, że mój detektyw jest po prostu mutacją kolejną.
PM: Ile tomów powieści już powstało i jakie historie w nich znajdziemy?
JG: Na razie powstało ich siedem, a seria zaplanowana jest na czternaście. W każdym z nich mój detektyw rozwiązuje trzy zagadki. Staram się, żeby skupiały się one każdorazowo wokół ludzi o podobnej profesji lub jakiejś cesze, która ich łączy. Stąd do tej pory mój detektyw odkrywał przestępców wśród celebrytów, korpoludków i kobietonów. W najnowszym obraca się wśród kryminalistów, czyli autorów poczytnych kryminałów. W tomie ósmym będą to rowerzyści czy raczej wyznawcy cyklizmu uważający swój jednoślad niemal za narzędzie zbawienia ludzkości. <Śmiech> A w dziewiątym sztukmistrze. Czyli osoby, każące nam wierzyć, że czerwona kropka na środku białego płótna to afirmacja ciepła <śmiech>. Zaś plątanina metalowych drucików to wielkie dzieło sztuki za które trzeba zapłacić im krocie. Mówiąc najogólniej głównymi bohaterami będą zawsze przedstawiciele "Warszawki", z której trochę się naśmiewam w całej tej serii.
PM: Jakie elementy powinien zawierać dobry kryminał?
JG: To zależy kogo spytać. Jedni mówią, że musi być trup, inni, że suspens. Ktoś inny doda do tego hektolitry krwi, a inny mocne sceny łóżkowe. Są tacy, którzy uważają, że główny bohater powinien mieć problemy z alkoholem, być rozwiedziony i w ogóle taki więcej przegrany. Oczywiście wymieniam te cechy żartem, bo ciężko jednoznacznie odpowiedzieć na to pytanie. Łatwiej powiedzieć, że powinien po prostu wciągać i w żaden sposób nie nudzić, co najłatwiej odróżnia go od literatury ambitnej. No chyba, że jest to ambitny kryminał, w którym autor postanowił trupem przykryć to, że chce napisać zupełnie inną książkę, <śmiech> a po gatunek sięgnął bo wydawca uznał, że tak się lepiej sprzeda.
PM: Jak wygląda praca nad pisaniem powieści?
JG: Pisanie powieści nie różni się dla mnie od innego pisania. Po prostu siadam i piszę. Czasem idzie mi to sprawniej, czasem wolniej. Nie czekam jednak na wenę bo w nią nie bardzo wierzę. Dobre pomysły i coś co można by nazwać natchnieniem, przychodzi do mnie po prostu w trakcie pracy. Z tym jest trochę jak z formą sportowca. Jak odpowiednio często się trenuje to przychodzą dobre rezultaty.

Zdjęcie: Magdalena-Polak – Podróż-Przez-Życie
PM: Jak rozpoczęła się Twoja przygoda z pisaniem?
JG: Moje pisanie zaczęło się od miłości. Zakochałem się, a ponieważ podmiot moich uczuć lubił wiersze Gałczyńskiego starałem się dla niej takie wiersze pisać. Oczywiście moje teksty w żaden sposób nie dorównywały tekstom mistrza Konstantego, ale tej osobie się spodobały. Na studiach prawniczych z kolei bardziej zajmowałem się prowadzeniem wieczorów poezji i innymi mało prawniczymi zajęciami. W końcu mój kolega stwierdził kiedyś: "Mecenasem to ty już nie będziesz. Za to copywriterem owszem". Pomyślałem, że to w sumie dobry sposób na życie bo na bycie prawnikiem straciłem ochotę. A skoro za "pisanie wierszyków" ktoś dobrze płaci, to czemu nie?
PM: Jak teraz wspominasz początki Twojej kariery?
JG: Bardzo lubiłem bycie copywriterem. Ten okres dał wiele mojemu warsztatowi pisarskiemu. Nauczył mnie skrótowości myślenia i pisania bez lania wody, bo przecież reklama sama ze swojej natury jest utworem bardzo krótkim. Z czasem jednak przestało mi to wystarczać, dlatego postanowiłem spróbować zostać scenarzystą. I dalej jakoś to poszło. <śmiech>
PM: Ile czasu zajmuje napisanie jednej książki?
JG: Praca nad jedną książką to u mnie 8-10 tygodni. Przy czym nie są to tygodnie następujące po sobie. Mam dużo innych obowiązków, zleceń, dla których muszę przerwać pisanie. I co ważne, dobrze, żeby po zakończeniu pisania pozwolić książce poleżeć dwa, trzy tygodnie, a najlepiej jeszcze dłużej. Wtedy, gdy się siada do poprawek lepiej widzi się własne błędy, bo ten czas pozwolił nam już trochę zapomnieć co napisaliśmy i nabrać do tego dystansu. A to, zdecydowanie ułatwia pracę.
PM: A dużo czasu zajęło Ci układanie dialogów do gry fabularnej "Wiedźmin 2"?
JG: Przede wszystkim ja w tym miałem tylko niewielki udział, który zapewne można ocenić na góra 10 % całości, a może nawet mniej. Każda część "Wiedźmina" to po prostu superprodukcja, do której potrzebne są całe zespoły ludzi, w tym scenarzystów, a ja byłem jedynie jednym z nich. Panuje tam amerykański model pisania scenariuszy, właściwie niespotykany w Polsce.
PM: Na czym polega ten model?
JG: Na tym, że cały czas w zasadzie przepisywaliśmy teksty napisane już wcześniej przez kogoś innego, po to, aby je udoskonalić. W dodatku prawie każda z kwestii, którą wkładaliśmy w usta bohaterów musiała się rządzić żelazną zasadą znaną z trailerów amerykańskich dreszczowców, czyli tak samo zaciekawiać jak i nic konkretnego nie mówić. Bo tu nie ma narracji linearnej. Gracz mógł w danym miejscu gry znaleźć się po przejściu ścieżki na kilkaset różnych sposobów, dlatego ten tekst nie mógł pozostawać w sprzeczności z niczym, co było wcześniej jak i nie sprawiać kłopotów temu, co przyjdzie potem. Gdybym jednak miał się pokusić o jakieś uogólnienie, na czym polega tworzenie scenariusza i dialogów do takiej gry to jest najbardziej ścisły rodzaj pisania. Przypominający układanie ogromnej, skomplikowanej krzyżówki, w której trzeba stworzyć około miliona haseł idealnie do siebie pasujących i uzupełniających się.
Zdjęcie główne: Małgorzata-Żurakowska, Radio-Lublin