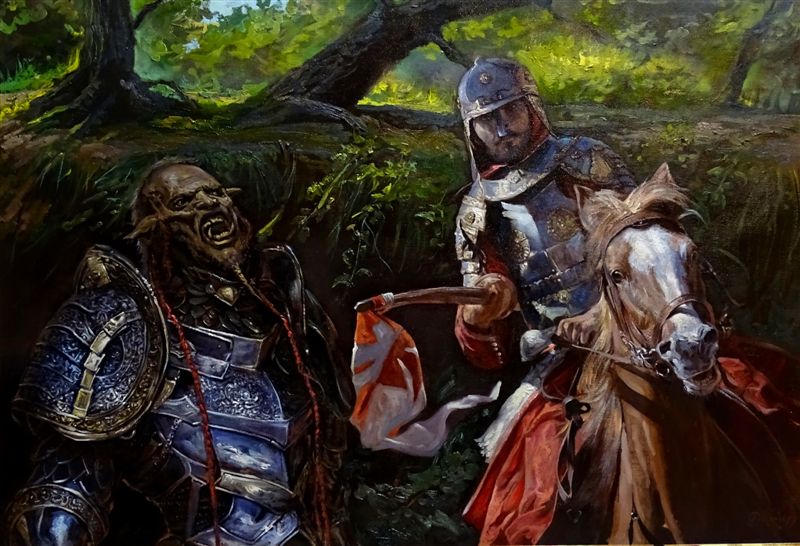 Jest taka scena w filmie Władca Pierścieni, w której jeden z bohaterów armii Śródziemia, Aragorn wspólnie z elfem Legolasem i krasnoludem Gimlim, wyruszają aby przekonać armię zmarłych, aby ta spełniła swoją przysięgę i pomogła im w walce z orkami.
Jak Państwo się doskonale domyślacie porównania do naszej, polskiej rzeczywistości nasuwają się same. Ta armia zmarłych, to byłe służby komunistyczne, z WSI i jej pozostałościami na czele. Orków z kolei mamy kilka typów. Proponuję określić jako orków tych wszystkich, którzy próbują szkodzić i szkodzą Polsce. Szerzej nie będę się rozpisywał, więc tylko wymienię. A więc będą to 'bracia' od Putina, kraje z terenu sojuzu UE, konfidenci i targowica w naszym kraju i Parlamencie Europejskim, islamiści z Arabią Saudyjską na czele. Tych z kolei wrogiem nie jesteśmy tylko my Polacy, ale wszystko, co nie-islamskie, o czym już pisałem w moich poprzednich tekstach. Tych orków mniej lub bardziej zdefiniowanych jest jeszcze kilka typów, ale to innym razem. A na temat możliwych korzyści i zagrożeń płynących ze współpracy z Żydami postaram się napisać innym razem, ponieważ muszę się do tego lepiej przygotować.
Po rekonstrukcjach rządu, podniosło się wiele 'zatroskanych' o dobro Polski głosów. Dołączają się też do nich ludzie nieco niezorientowani oraz zagubieni i skonsternowani na przykład odwołaniem ministra Antoniego Macierewicza. Główne zarzuty, jakie są stawiane obecnie rządowi, to to, że w rządzie PIS jest coraz mniej PISu, że zaczyna się w rządzie pojawiać coraz więcej ludzi związanych ze środowiskiem dawnej Unii Wolności i jej okolicami.
Wrśród tych osób nieco siejacych zamieszanie znajdują się też ludzie blisko związani z PISem.
No cóż, co by nie mówić, to na pewno nie można zarzucić Prezesowi Kaczyńskiemu, ani złej woli, ani braku inteligencji, a tym bardziej małej wiedzy politycznej i braku doświadczenia. Ja osobiście myślę, że po prostu warto poczekać, ponieważ nie wszystko dla dobra sprawy może być od razu wyjawiane publicznie, ponieważ tego słuchają też przeciwnicy Polski. Czas natomiast daje tu przewagę. A wszyscy mądrzy i mądrzejsi, niech się po prostu wygadają, co im tam na wątrobie leży, ale drugiej targowicy niech nie robią. Co prawda ostatnio po wizycie nowego szefa MSZ w Niemczech i jego wpadce, musiał osobiście zareagować Prezes Kaczyński, żeby potwierdzić domaganie się przez Polskę roszczeń wojennych od Niemiec. Ale cóż. Taka rola Prezesa, żeby naprawiać błędy w firmie.
Sam Pan Antoni Macierewicz też, co było dla mnie całkowicie oczywiste, zachował się i profesjonalnie i zgodnie z uczciwością względem Polski i partii. Jakie były kulisy tego odwołania? Wszystkiego jeszcze oczywiście nie wiem, a to co wiem na razie nie bardzo nadaje się do publikowania.
Na moje oko wygląda na to, że mamy obecnie rozłam, jak to już określiłem na wstępie, wśród armii duchów. I jedni przeszli do współpracy z obecnym rządem i pomagają, inni natomiast próbują organizować dywersję i taki na przykład generał Dukaczewski odwiedził kilka jednostek wojskowych i próbował agitować żołnierzy przeciwko obecnemu rządowi. Jak już skomentowałem to na Twitterze w jednym z komentarzy, proponuję i panu Dukaczewskiemu i innym, którzy mają jakieś podobne pomysły, usiąść gdzieś przy kominku i napić się ciepłego grzańca, wyjechać na narty i miło spędzić czas. Generalnie, przestać się wygłupiać.
Wróćmy do tematu wykorzystania byłych pracowników służb specjalnych do pracy dla Polski pod przewodnictwem obecnego rządu. Ja osobiście, gdybym miał na to wpływ, to postąpiłbym zgodnie z naszym starym polskim przysłowiem: 'Tak krawiec kraje, jak mu materiału staje'. Tak więc wszystkim, którzy chcą służyć Polsce, dałbym szansę na zasadach złożenia nowej przysięgi. Ponieważ są żołnierzami, to za zdradę po takiej przysiędze kara jest jedna – czapa. Może nawet panowie Dukaczewski i Koziej również otrzymaliby swoje szanse. Oczywiście przychylam się do słuszności rozwiązania WSI, ponieważ uważam, że w bardzo znaczącym stopniu była to organizacja przestępcza.
Dlaczego mam takie podejście i tak to rozumiem?
Wszyscy, którzy uczestniczyli w zbrodniczym systemie i na przykład pomagali 'seryjnemu samobójcy' po katastrofie smoleńskiej, mordowaniu i skazywaniu niewinnych ludzi i innych działaniach, powinni zostać osądzeni i skazani. Wszyscy posiadający polskie obywatelstwo, którzy do tej katastrofy w Smoleńsku doprowadzili, również. Jak już pisałem w jednym z moich tekstów, dla nich specjalnie, jestem za przywróceniem kary śmierci. Ale z kolei, trudno jest oceniać zdecydowanie negatywnie oficerów i pracowników, którzy byli zmuszani rozkazami i poleceniami do zatajania i fałszowania dokumentów. Im za wyznanie całej prawdy z pewnością, ja osobiście, dałbym jakąś szansę.
A wracając do Aragorna, to żeby przekonać armię duchów do walki po stronie Śródziemia, musiał posiadać specjalny miecz, którym był w stanie bronić się przez ową armią. Zastanawiam się, co jest takim mieczem w naszym przypadku. Może jest to Aneks do Raportu WSI? A może coś innego? No i kto jest w stanie taki miecz dzierżyć i nie dostać od niego pomieszania zmysłów, jak Frodo z pierścieniem? Przyznacie sami, że sprawa jest trudna.
Wykorzystano obraz Ork i husarz, za zgodą autora Dariusza Kalety.