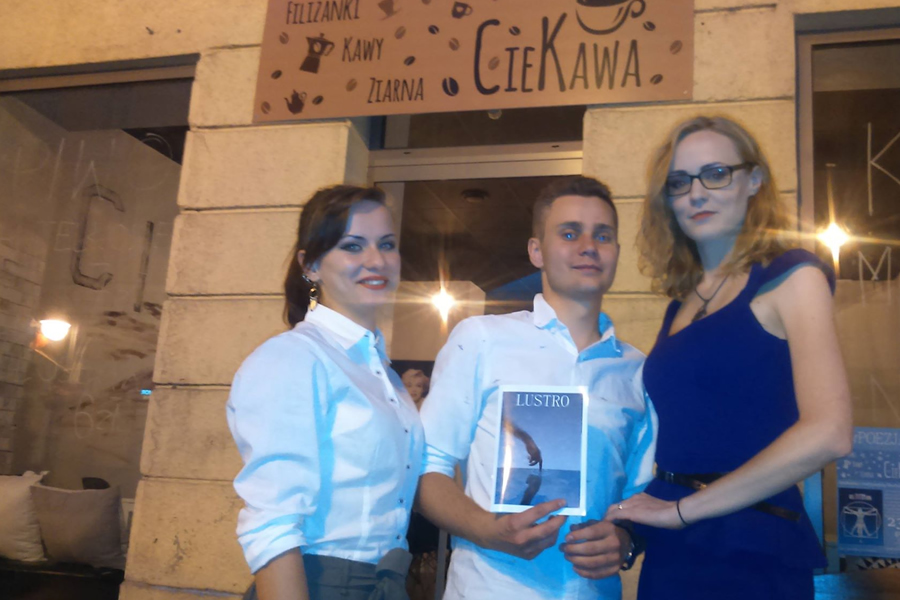 Maciej Bujanowicz ma zaledwie 19-ście lat, a jego książki już dostępne są w księgarniach. Sam zdobywa sponsorów na swoje publikacje, wydaje książki w profesjonalnych wydawnictwach oraz pojawia w roli autora na poetyckich eventach.
Twórczość autora takich książek jak "Synkretyzm Nocy" czy "Reloveution" będzie można poznać osobiście już w najbliższą sobotę w nowopowstałym pubie w Radomiu pod szyldem "CieKawa".
Licealista jest też współautorem antologii powarsztatowych będących pokłosiem warsztatów literackich prowadzonych w SCM Arka przez dr. Adriana Szarego.
PM: Czemu warto przyjść na twoje spotkanie autorskie?
MB: Warto przyjść na to spotkanie ponieważ odbędzie się w kawiarni "CieKawa", więc będzie ciekawie, a dodatkowo będzie to rozmowa o kulturze z trochę innej strony. Takiej strony warsztatowej i trochę z poza sztampowych instytucji. Chcemy pokazać kulturę w sposób troszkę inny niż jest prezentowana chociażby w szkole. Dlatego chciałbym wszystkich zaprosić w najbliższą sobotę 23 czerwca o godzinie 17 na wieczór pod tytułem "Kawa, poezja, piwo". Każdy znajdzie coś dla siebie. Będzie teatr, poezja i muzyka w "CieKawej" na Żeromskiego 26 w Radomiu.
PM: Ile książek już wydałeś?
MB: Jestem autorem 2 książek takich jak "Synkretyzm Nocy" i "Reloveution", ale moje teksty można też znaleźć w antologiach powarsztatowych pod redakcją dr Adriana Szarego takich jak "Lustro" wydawnictwa Ridero, tomiku "Oko" wydanej przed wydawnictwo Lucky i towarzyszącemu mu audiobookowi "Ucho" oraz w antologii "Maski".
PM: Jakiego rodzaju są to książki?
MB: Pierwsza moja samodzielna książka to "Synkretyzm Nocy". To był mój debiut. W tym debiucie większość to była poezja współczesna, krótkie formy i gry słowne. Chociaż zdarzyło się też kilka wierszy dłuższych. Druga książka "Reloveution" to już była książka, która pomimo, że jest tomikiem z wierszami to stanowi w pewnym sensie fabułę ponieważ jest to książka poetycka, w której wiersze tworzą logiczny ciąg historii. Można je podzielić na cztery rozdziały i każdy z tych rozdziałów poprzedza ilustracja Pawła Okońskiego. Znajduje się w niej proza poetycka i poezja, która gdzieś tam realizuje hasło może nie do końca prostszego języka, natomiast jest jednak bardziej zrozumiała dla każdego, nie tak hermetyczna.
PM: Ciężko było nawiązać kontakt z wydawnictwami?
MB: Pierwszy tomik to jednak było wydawnictwo w stylu selfpublishing, czyli w którym ja wkładam większość pracy. Wydawnictwo tylko sprawdza i nie było to trudne bo praktycznie książkę w stu procentach od początku do końca złożyłem i wykonałem sam. Jedynie ilustracja była mojej koleżanki. To była grafika na okładce i ta książka została opublikowana w formie ebooka. Natomiast druga książka to jest zupełnie inna historia. Nad tą książką pracowałem dużo więcej czasu. Paweł Okoński wykonał ilustrację na okładkę oraz teaser zapowiadający książkę i zrobił to w mega świetny sposób w związku z czym to też był ważny element książki bo poprzednia była uboga graficznie. "Reloveution" jest zrobiona bardzo profesjonalnie w związku z czym do wydawnictwa trudno dotrzeć nie było.
PM: A co było największą trudnością?
MB: Troszkę większym problemem było dotarcie do patronatów medialnych, ale cztery portale zgodziły się objąć patronat. No i największym problemem było znalezienie sponsora, który da pieniądze na publikację. Bo wiadomo, wszystko jest łatwe do wykonania, wydawnictwo też było chętne bo książka była dopracowana więc nie było problemu z samym wydaniem tylko problemem było znalezienie nakładów finansowych. To była też duża rola szczęścia, która ma na imię osoby instytucji, która również dała pieniądze na wydanie tej książki a instytucją tą było Stowarzyszenie Centrum Młodzieży Arka.
PM: Czy pisanie poezji ma sens we współczesnym świecie?
MB: Pyta mnie o to już któraś osoba z rzędu. Ludzie też często pytają mnie po co ja piszę. Mnie jest na to trudno odpowiedzieć dlatego, że ja piszę, może nie dlatego, że aż muszę, chociaż czasami tak jest. Bo w trudnych sytuacjach gdzieś tam to wychodzi na kartce samo, ale piszę bo w pewnym sensie odkryłem, że jest to część mnie. Jeden rodzi się by zostać mechanikiem, drugi rodzi się by zostać informatykiem, albo geologiem, pedagogiem czy muzykiem, a inna osoba rodzi się by zostać osobą piszącą. To sprawia, że jestem sobą i taką mam potrzebę. I pomimo, że nie ma z tego pieniędzy, bo uczciwie można powiedzieć, że na poezji w Polsce raczej nie da się zarobić, a na pewno nie da się z tego wyżyć, to jest to forma hobby i samorealizacji oraz kształcenia się, rozwijania i kształtowania swojej osoby.
PM: A jaki sens widzisz w uczestnictwie na warsztatach literackich?
MB: Na warsztaty chodzę od pierwszej klasy liceum. To już jakieś dwa lata. Na warsztatach przede wszystkim zdobywamy nowe doświadczenie. Ważny jest też kontakt z ludźmi, którzy mają różny światopogląd, różną metrykę wieku i różny bagaż doświadczeń w związku z czym można wyciągnąć różnego rodzaju wnioski i gdzieś tam poprawić stan rzeczy taki jaki jest bo nie każdy jest idealny i na pewno warsztaty literackie pana Adriana Szarego, który jest i polonistą i wykładowcą i sam też jest poetą z dużym bagażem doświadczeń jako poeta, pomagają.
PM: Gdzie można znaleźć Twoje książki?
MB: Książki można znaleźć na mojej stronie na facebooku. Jest tam zakładka sklep. Tam jest link do każdej i instrukcja zakupu. Jedna jest dostępna na stronie krakowskiego wydawnictwa Ridero, a druga jest dostępna na mojej stronie i blogu. Jest tam link więc książkę można zamówić i oczywiście będzie można ją kupić na spotkaniu w "CieKawej" w sobotę 23 czerwca o 17. Ale nie tylko w sobotę bowiem zostawię kilka egzemplarzy żeby były do nabycia w "CieKawej" przy Żeromskiego 26. Książka jest też bezpośrednio dostępna tutaj w kawiarni na miejscu także można będzie sobie przyjść, obejrzeć i najzwyczajniej w świecie poczytać.
PM: A w jakiej roli widzisz siebie za kilka lat?
MB: Nie jestem pewny jak będzie za kilka lat i zawodowo nie bardzo chcę wybiegać tak w przyszłość ze względu na trudną sytuację humanistów na rynku pracy. Obecnie planuję studiować polonistykę na UJ. Moim marzeniem jest żeby zostać na uczelni jako wykładowca akademicki. Jeśli chodzi o pisanie to na razie nie zamierzam rezygnować. Wręcz przeciwnie. Planuję dalej się rozwijać, pisać, uczestniczyć w warsztatach, konkursach, publikować i rozwijać swoją stronę tak aby dotrzeć do większej liczby czytelników. Jestem dobrej myśli.
PM: Dziękuję za rozmowę.
MB: Dziękuję uprzejmie.