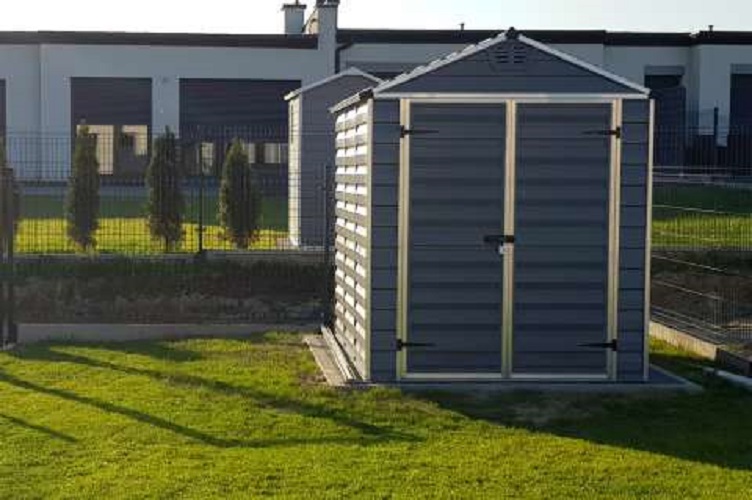 To idealne miejsce na narzędzia, akcesoria czy meble. Aby jednak domek ogrodowy służył nam tak jak tego chcemy warto zadbać o przygotowanie terenu, na którym ma stanąć. Sprawdźmy więc o co warto zadbać.
Rozejrzyj się za odpowiednim miejscem
Zanim zdecydujemy się na zakup domku narzędziowego do swojego ogrodu warto zastanowić się w którym miejscu mógłby stanąć. Pamiętajmy, żeby wybierać takie lokalizacje, które pozwolą nam na swobodny dostęp do domku i manewrowanie np. taczką lub kosiarką. Nie jest więc dobrym pomysłem stawianie domku w gęsto zarośniętej przestrzeni. Miejsce owszem, może być ustronne, niemniej jednak pamiętajmy o tym, że będziemy potrzebować nieco zapasu.
Załącznik: domek ogrodowy na narzędzia SkyLight
Wyczyść i wyrównaj teren
Kolejny krok to wymierzenie terenu pod domek ogrodowy. Dokładnie sprawdź wymiary domku, który cię interesuje i wytycz jego położenie na ziemi. Teren na którym ma się znaleźć musisz dokładnie sprzątnąć i wyrównać. Konieczne może być nie tylko wykopanie krzewów, usunięcie gałęzi czy trawy, ale również nawiezienie ziemi czy piasku by podłoże było poziome. Dokładnie zgrab też teren wokół domku. Dzięki temu prace przy jego montażu pójdą znacznie sprawniej.
Przygotuj podłoże pod domek ogrodowy
Specjaliści zgodnie zalecają nie stawianie domków narzędziowych bezpośrednio na glebie. O wiele lepiej zadbać o wykonanie utwardzonego podłoża. Możliwości mamy mnóstwo – możemy oczywiście wykonać wylewkę betonową, ale również ułożyć kostki chodnikowe. Wszystko zależy od naszych pomysłów i upodobań. Warto jedynie pamiętać o tym, że domek musi być odpowiednio przytwierdzony do podłoża. Dlatego decydując się na nietrwałe rozwiązania takie jak goła ziemia czy lekka kostka chodnikowa musimy zadbać o wkopanie ciężkich przedmiotów, do których przykręcimy domek. Najpopularniejszymi są betonowe krawężniki bądź płyty betonowe wkopane na sztorc. Tylko wtedy będzie on solidny i stabilny. Inaczej ma się rzecz z wylewką betonową, jest to najbardziej solidne rozwiązanie jako podłoże pod domek ogrodowy szczególnie plastikowy. Więcej informacji, instrukcji oraz filmy instruktażowe można znaleźć na https://palram.pl/domki-ogrodowe.

Załącznik: przytwierdzanie domku na narzędzia do betonowego podłoża za pomocą śrub
Przemyśl dodatkowe wyposażenie
Jeśli zależy Ci na tym, by domek ogrodowy na narzędzia był jak najbardziej funkcjonalny zadbaj również o dodatkowe wyposażenie. Zastanów się w jaki sposób doprowadzić energię elektryczną do domku oraz pomyśl nad oświetleniem zarówno wewnątrz, jak i na zewnątrz domku. Dobrym pomysłem jest również zakup skrzyni i pudeł, dzięki którym drobne narzędzia i akcesoria będzie łatwiej posegregować. Wcześniejsze zaplanowanie pozwoli na np przygotowanie kanałów dla kabli bez konieczności rozkręcania domku.
Zapoznaj się z instrukcją domku ogrodowego i określ jego zastosowani
Jeśli udało Ci się odpowiednio przygotować teren i masz już wybrany model domku na asortyment ogrodowy, pozostało już tylko zająć się jego montażem. Wbrew pozorom nie zawsze jest to zadanie łatwe dlatego też dobrze zapoznać się dokładnie z instrukcją producenta i kierować się jej radami. Do tego złożenie inaczej niż w zaleceniach instrukcji może być podstawą odrzucenia reklamacji gdy coś się zadzieje podczas użytkowania. Dlatego trzeba pamiętać by trzymać się wytycznych producenta.
Podsumowując, jeśli decydujemy się na zakup domku ogrodowego warto zadbać o to, by miejsce, w którym ma stanąć było odpowiednio duże i przygotowane. Dzięki temu korzystanie z możliwości jakie daje posiadanie takiego domku będzie znacznie łatwiejsze.