"Przejrzyjmy się w lustrze" – pod tym hasłem odbyła się prezentacja dziesiątego już almanachu "Lusto", której towarzyszyło podsumowanie 20-stu edycji regionalnych konkursów poetyckich i prozatorskich, oraz dziesięciu lat spotkań z twórcami kultury oraz zbiorowych i indywidualnych wieczorów literackich. Na tę okazję do Radomia zjechali się poeci z różnych miast Polski, a koncert dała radomska grupa Lustro, która niedawno wróciła z Toronto, a znana jest już w USA, na Wyspach Brytyjskich i w Australii.
Międzynarodowe publikacje i indywidualne tomiki warsztatowiczów Szarego
Na warsztaty literackie prowadzone w Stowarzyszeniu Centrum Młodzieży Arka przez dra Adriana Szarego swoje teksty nadsyłają i w miarę możliwości przyjeżdżają literaci z Krakowa, Białegostoku, Warszawy, Lublina oraz nawet spoza Polski. Jedną z uczestniczek jest rosyjska poetka Lubow Salomon, która co jakiś czas pojawia się na spotkaniach. Nie ma w tym jednak nic dziwnego – teksty poetów i prozaików z grupy prowadzonej przez dra Adriana Szarego w formie almanachów powarsztatowych wydawane są i znane również poza granicami naszego kraju. Na język rosyjski tłumaczy je Olga Lewicka. Twórczość warsztatowiczów na niemiecki przekłada Adam Michalczyk, a wiersze na język angielski tłumaczy Agnieszka Złotkowska.
Skład osób będących członkami warsztatów literackich to przekrój wiekowy od szkoły podstawowej, po gimnazjalistów, licealistów, studentów oraz seniorów. Każdy może wziąć w nich udział, a zajęcia są bezpłatne bo prowadzone w Stowarzyszeniu Centrum Młodzieży Arka, które jest Organizacją Pożytku Publicznego. Jej założycielem jest ksiądz Andrzej Tuszyński, kapłan Diecezji Radomskiej pracujący w parafii św. Wacława w Radomiu. Członkowie warsztatów literackich mogą też pochwalić się indywidualnymi tomikami i książkami. Są to m.in. Grażyna Cieślik, Kasia Jesionek, Iza Mozańska, Agnieszka Borkowska, Magda Krzesicka, Maciej Bujanowicz, Józef Kazimierczak i wiele innych osób.
Jak informują uczestnicy warsztatów – zajęcia prowadzone są w bardzo miłej atmosferze i przyjaznej formule, gdzie wspólnie z prowadzącym i uczestnikami wszyscy omawiają prozę i poezję członków grupy, a ze względu na szeroki przekrój wiekowy i różne style pisarskie – można się sporo nauczyć od innych, posłuchać cennych uwag i poprawić swój warsztat pisarski. Choć na zajęciach pojawiają się zarówno dzieci jak i dorośli, nie ma też problemu z omawianiem odważniejszych tekstów, które można indywidualnie przesłać do instruktora zajęć, co jest bardzo wygodne również dla osób, które nie zawsze mają możliwość by raz w miesiącu przyjechać do Radomia na zajęcia prowadzone przez Adriana Szarego.
Podziękowania od Prezydenta Miasta Radom za 10 lat dzielenia się pięknem języka
Z okazji 10-tego jubileuszu wygrawerowane na tablicy pamiątkowej podziękowania w imieniu Prezydenta Miasta Radom złożył na dłonie instruktora warsztatów literackich dyrektor Wydziału Kultury UM w Radomiu – Sebastian Równy, który jako prozaik i dramaturg oraz przewodniczący komisji zasiadał też w siódmej edycji Regionalnego Konkursu Literackiego prowadzonego przez Adriana Szarego. Życząc w imieniu swoim oraz władz miasta kolejnych wspaniałych lat warsztatów, a młodzieży takiego nauczyciela jakim jest Adrian Szary, podsumował także te 10 lat pracy, którą instruktor warsztatów włożył w promocję kultury i piękna języka:
– Kiedy, co miesiąc redaguję Radomski Informator Kulturalny zawsze towarzyszy temu wpis "Warsztaty literackie w Arce prowadzi Adrian Szary" i człowiek się do tego przyzwyczaja. Uważa, że to coś normalnego i przychodzi taki dzień jak dziś, że nagle sobie uzmysławiam, że to już 10 lat dzielenia się swoją pasją, pięknem języka polskiego i uwrażliwianie na to piękno języka, który jest przecież naszym gwarantem tożsamości. To wprowadzanie ludzi w krąg kulturowy, uczenie ich autorefleksji i możliwości wypowiadania się. Dlatego warto podkreślić, że ta działalność Adriana Szarego to prawdziwy fenomen. – podsumował dyrektor Sebastian Równy.
Owoce zajęć literackich w Arce– liczne almanachy i wieczory poetyckie
Uczestnicy warsztatów literackich to autorzy dziesięciu już almanachów powarsztatowych takich jak: "Puzzle pamięci" (2008), "Nowa Teoria Literatury Użytkowej" (2009), "Na szarym początku…" (2010/2011), Asocjacje (2012), "Panopticum" (2013/2014), "Onoma" (2015), "Prosta piosenka o Nadziei" (2016), Maski (2017); "Oko" (2018) wraz z audiobookiem "Ucho" i jubileuszowe "Lustro" (2018) dostępne również w formie e-booka.
"Lustro to antologia autotematyczna. Na zadany temat. O jubileuszu, warsztatach, tworzeniu, artystach i przeglądaniu się w zwierciadle ( także duszy ). Przejrzyjmy się zatem w lustrze i powspominajmy minione dziesięć lat…" – taki wpis pojawił się na okładce książki z grafikami Pawła Okońskiego, która przy współpracy Janusza Kozłowskiego i Macieja Bujanowicza została wydana przez krakowskie wydawnictwo Ridero. A jest co wspominać, bo przez te dziesięć lat autorzy tekstów mieli okazję promować swoją twórczość na indywidualnych i zbiorowych wieczorach literackich w wielu placówkach kultury.
Występowali m.in. w Teatrze Powszechnym w Radomiu, Miejskiej Bibliotece Publicznej, gdzie gościli z okazji 33 Radomskiej Wiosny Literackiej, w Resursie Obywatelskiej, gdzie odbywała się promocja pierwszego almanachu z okazji Tygodnia Filozofii im. Prof. Leszka Kołakowskiego "Okna"; w Klubie Środowisk Twórczych i Galerii "Łaźnia"; Teatrze Powszechnym w Radomiu, Muzeum Witolda Gombrowicza we Wsoli, w Zespole Szkół Muzycznych na wieczorze słowno-muzycznym, UTH, w Zespole Szkół Plastycznych, Wyższej Szkole Nauk Społecznych i Technicznych, w Wyższej Szkole Handlowej. Zapraszani byli na coroczne imprezy tematyczne takie jak Uliczka Tradycji, publikowali w "Resursie", w ówczesnym "Miesięczniku Prowincjonalnym", na portalu Salon Literacki prowadzonym przez Pawła Podlipniaka oraz pokazywali się w wielu innych ośrodkach kultury i szkolnictwa, których nie sposób wszystkich wymienić, jak również na indywidualnych i zbiorowych wieczorach literackich w kawiarniach i pubach. Współpracowali też z takimi grupami poetyckimi jak "Grupa Eliksir", "Szuflada" i "Amfiteatr".
Koncert zespołu "Lustro" na jubileuszu warsztatów literackich
Oprócz poezji na jubileuszu warsztatów literackich pojawił się radomski zespół "Lustro", którego muzycy znani są nie tylko w Radomiu, ale również w innych miastach Polski, na Wyspach Brytyjskich, w USA, Irlandii czy Australii, a niedawno wrócili z Toronto. To, co ich wyróżnia to rockowe pieśni patriotyczne z własnymi tekstami, które wykonywane są w języku polskim. Formacja zadebiutowała po raz pierwszy w 2004 roku piosenką "Ja, twój cień" wydaną na składance "Rock Atak", jednak o Lustrze zrobiło się głośno, gdy w 2007 roku kapela zdobyła statuetkę "Złotego Kameleona" na festiwalu w Jarocinie. Obecnie zespół pracuje nad materiałem na kolejne, trzecie wydawnictwo, a w jego obecny skład wchodzą: Jacek Adamczyk – wokal, Grzegorz Kowalczyk – gitara, Jacek Falkiewicz – gitara, Artur Rudnicki-Matracki – bas, Artur Sulikowski – perkusja. Córka Asia gitarzysty Grzegorza Kowalczyka również była uczestniczką warsztatów literackich w Arce. Zespół na 10-te urodziny "Arkowych warsztatów" dał koncert wyjątkowo w składzie akustycznym, a po koncercie odbyła się uroczysta kolacja w "Arce", gdzie zostali zaproszeni uczestnicy warsztatów, muzycy oraz dyrektorzy instytucji, uczelni i ośrodków kulturowo-edukacyjnych. Podczas wspólnego spotkana wyświetlane były filmy, zdjęcia i pojawiło się mnóstwo wspomnień.
Adrian Szary wspominał 20 edycji Regionalnych Konkursów Literackich
– "Za świętowanie z nami 10-tego jubileuszu dziękuję mojemu obecnemu szefowi będącemu Dziekanowi Wydziału Filologiczno-Pedagogicznego UTH w Radomiu prof. Przemysłałowi Łozowskiemu, którego Wydział jest otwarty na warsztatowiczów. Dyrektorowi Kolegium UMCS Ireneuszowi Chorosińskiemu. W sposób szczególny chciałbym podziękować władzom instytucji kultury zaprzyjaźnionej z nami pani dyrektor Beacie Drozdowskiej z Klubu Środowisk Twórczych i Galerii "Łaźnia", gdzie często warsztatowicze się pojawiają, władzom Miejskiej Biblioteki Publicznej Pani Agacie Morgan, dyrektorowi Zbigniewowi Rybce z Teatru Powszechnego w Radomiu, gdzie w 2008 roku gościliśmy w ramach scen czytania poezji. Za zaproszenie do Muzeum Witolda Gombrowicza dziękuję dyrektorowi Tomaszowi Tyczyńskiemu. Chciałbym wspomnieć też dyrektorów szkół, którzy współpracowali z nami w ramach Regionalnego Konkursu Literackiego Panią Bożenę Marczykowską z radomskiego "Plastyka" i Romualda Lisa z "Kochanowskiego" . To już 20 edycji ponieważ w ciągu roku mamy edycję poetycką i prozatorską." – mówił Adrian Szary. Szczególne podziękowania za współpracę otrzymali również: Roman Fituch z drukarni Romel, Robert Stępień z wydawnictwa Lucky oraz Piotr Skrzypczak i Rafał Celej, którzy zajmował się składem książek.
– "Ten ostatni almanach ukazał się w krakowskim wydawnictwie Ridero. Chciałbym też wspomnieć o Radomskiej Szkole Rocka. Mikołaj Czester Ganabisiński jest pomysłodawcą audiobooka "Ucho". Pozdrawiam Jacka Skirowskiego, który jest autorem grafiki i klipów do naszych wierszy i Pawła Okońskiego, który jest autorem ciekawej okładki almanachu Lustro. Wspomnę też autorkę poprzednich okładek, panią Olę Kwiecińską z Wydziału Sztuki UTH w Radomiu. Chciałbym podziękować też pani Róży Domańskiej, która w księgarni Witolda Gombrowicza również przyjmuje nasze książki. Szczególnie dziękuję też mediom, władzom Arki czyli ks. Andrzejowi Tuszyńskiemu i pani Ewie Kamińskiej, którzy wspierają nas nie tylko mentalnie i duchowo, ale też często finansowo jeśli chodzi o wydawanie antologii. Chciałbym wspomnieć też osoby, które gościły u nas w ramach spotkań z warsztatowiczami, ale też obradowały w jury w edycjach regionalnych konkursów literackich, a są to pani Monika Mazur, Markin Kępa, Walentyna Pawelec, Grzegorz Bartos, Sebastian Równy, Martyna Ruszczyk, Rafał Błędowski, Iza Mosańska, Jacek Michał Szpak, Andrzej Mędrzycki, Wojciech Krupa, czy Magda Krzesicka, Jacek Kowalczewski i Honorata Dyjasek. Bardzo wspierają mnie przy regionalnych konkursach literackich Kamila Kapciak oraz Karolina Skrzek, która od 5 lat prowadzi też warsztaty teatralne w Arce." – wspominał Adrian Szary.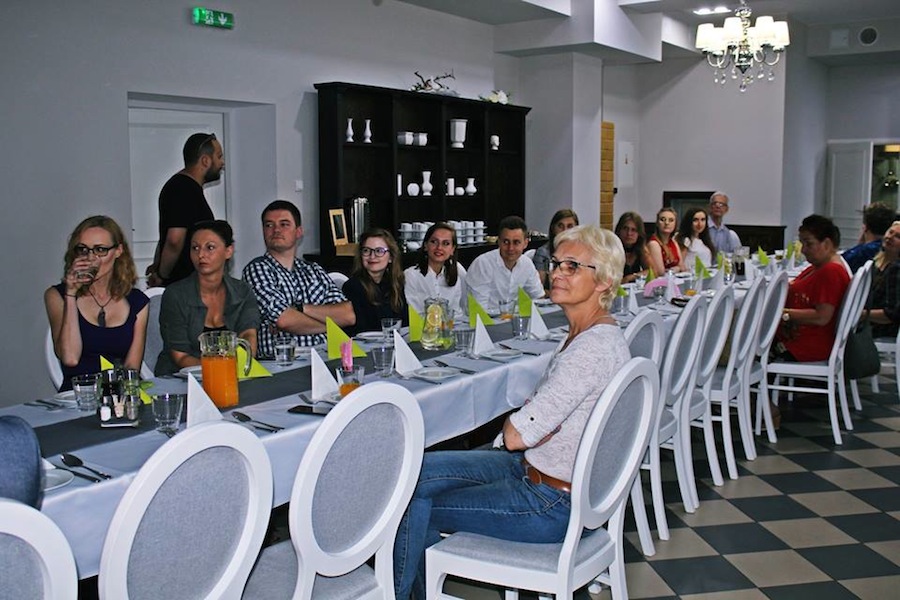 Zdjęcia umieszczone za zgodą Stowarzyszenia "Arka"
Zapisz