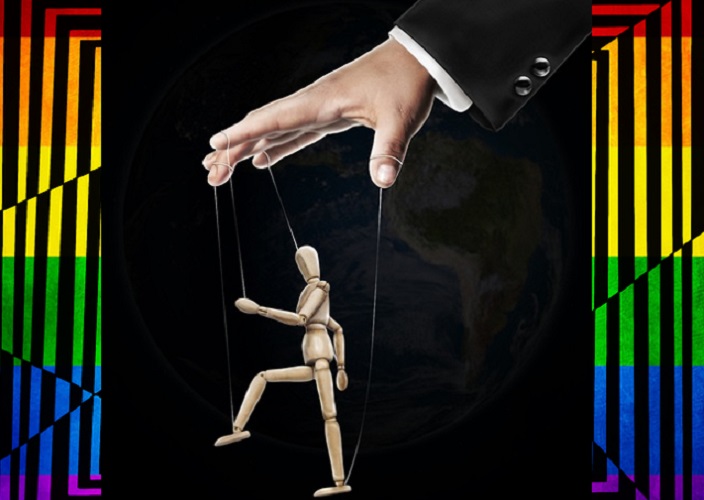 Dlaczego trój-szwabian?
Pracują w niemieckich spółkach i Niemcy ich utrzymują, stosują niemiecką narrację i metody walki z Polską i Polakami, a do tego wszystkiego są przesiąknięci ideą o tym, że to oni właśnie są "rasą wybraną", podobnie jak Hitler za taką rasę uważał Aryjczyków, z której on sam miał się ponoć wywodzić. Można też powiedzieć, że nazywają się: kastą, grupą, elitą itd. itp. Dotyczy to nie tylko mediów z niemieckim kapitałem, ale takich grup czy kast w Polsce mamy sporo, jak sędziowie, lekarze,zakłady pogrzebowe, niektóre kliki księży i sporo innych. No i oczywiście grupy ala-masońskie i masońskie. Ale te wszystkie poza mediami może na inną okazję. Dzisiaj o mediach.
Już bezpośrednio po wojnie Niemcy zdały sobie sprawę z tego, jakich wielkich zbrodni dopuścili się oni w czasie II wojny światowej. Co prawda było pojednanie polskich i niemieckich biskupów znane jako "Orędzie biskupów polskich do biskupów niemieckich" z 18 listopada 1965 roku, które podpisali między innymi Kard. Stefan Wyszyński oraz Św. Jan Paweł II. Razem podpisało je 34 biskupów. Z tego orędzia pochodzi cytat: "Wybaczamy i prosimy o wybaczenie".
Piękny gest, świetny pomysł, tylko co z tego wynikło? Czy Niemcy zrekompensowali Polsce straty wojenne, czy wynagrodzili uśmiercenie w sumie ponad 12 milionów polskich obywateli? Czy oddali dzieła sztuki i nne skradzione kosztowności?
Ostatecznie pojawi się pytanie: Co z tego, że księża i biskupi w Niemczech wykazali dobrą wolę?
Jak pisze profesor Andrzej Nowak: "Pycha jest zakorzeniona w kulturze niemieckiej i przytłacza inne narody".
Efekt tego jest widoczny po rozpoczęciu przemian ustrojowych w Polsce w 1989 roku, kiedy Niemcy do spółki z Holandią i Francją kawałek po kawałku przejmowały kolejne sektory prywatyzowanej polskiej gospodarki. Warto spojrzeć na poniższy wykres, który pochodzi z roczników GUS za lata 1989 – 2014. Widać z niego wyraźnie, że stan na 2012 wyglądał następująco: Holandia 21.5%, Francja 18.1% oraz Niemcy 17.2%. Chodzi o przedsiębiorstwa i dane te nie dotyczą sektora bankowego.
W tej sytuacji nietrudno zrozumieć, dlaczego Frans Timmermans tak zapalczywie atakował i nadal atakuje Polskę i obecny rząd, który chce jak najwięcej zysków zostawić w Polsce. Nie trudno też zrozumieć Francję i Niemcy, które powoli aczkolwiek systematycznie tracą wpływy z dotychczasowej "kolonii", co przez 30 lat robiły z Polski.
To tyle na temat gospodarki. A jak wygląda sytuacja w mediach z obcym kapitałem w Polsce i tzw. rządzie dusz?
Prym w prasie i stacjach radiowych poza tymi z polskim kapitałem wiodą te z niemieckim, jak się okazuje. Co robią niemieckie media i po co zostały zainstalowane w Polsce. Nie miejmy złudzeń – one od samego początku miałby służyć, obecnie służą i będą służyć niemieckim interesom. Nie ma znaczenia jak bardzo lub nie będą "obiektywne". Na końcu pojawi się zawsze bismarkowski pragmatyzm i pytanie o uzyskane zyski z zainwestowanych w Polsce pieniędzy.
Teraz bardzo krótko o metodach i taktykach, jakie stosują te niemieckie "obiektywne" tuby. Oczywiście tylko wybrane. Otóż jedną z najczęściej stosowanych jest obecnie wtłaczanie ideologii LGBT i obrażanie Polaków oraz polskich wartości religijnych i narodowych. Przykładów na to mieliśmy w ostatnim czasie całą masę, przeważnie na tzw. paradach równości, które z równością nie mają absolutnie nic wspólnego. Mieliśmy tego Dlaczego tak się dzieje i czy jest to skuteczne? Po pierwsze nie jest i nigdy nie działało to na Polaków. Można by więc przyjąć, że jest to pewien rodzaj ograniczenia intelektualnego twórców tej strategii, albo nieznajomość historii. Oczekiwanie, że kiedy upuścimy kilogram cukru i on poszybuje w powietrzu, to raczej śmieszna i dziecinna naiwność. Jedynym głównym celem jest rozbijanie tożsamości narodowej oraz utrudnianie i przeszkadzanie Polakom w jednoczeniu się. Chcą mianowicie, żebyśmy tak się nimi zajmowali, żebyśmy nie mieli czasu na organizowanie się w coraz większą wspólnotę. Osobiście myślę, że to jest naiwność z ich strony. Polaków im bardziej się dociska, tym bardziej stawiają opór. No ale niektórzy nie są w stanie tego zrozumieć mimo upływu wieków.
Po drugie takie mechanizmy znane są w psychologii i najczęściej są stosowane przez niektóre typy osobowości jako reakcja bezradności, którą można mniej więcej przedstawić następująco: nim już im nie damy rady zrobić, ale przynajmniej ich trochę poobrażamy. Jaki to typ osobowości i jak to leczyć? To już pytanie do specjalistów, a ja tylko mogę się zastanawiać, czy wystarczy psycholog czy będzie jednak potrzebny psychiatra i recepta na środki farmakologiczne?
Zdjęcie: pxhere.com