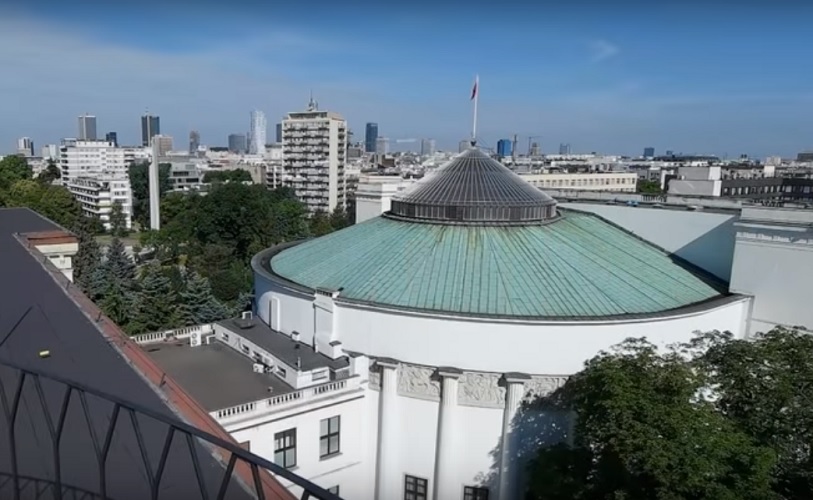 SLD przejmuje wyborców Nowoczesnej, posłowie Kukiz mają przechodzić do PIS, Nowoczesna łączy się z Platformą obywatelską. Czy te potencjalne migracje i te ruchy polityczne, które zostały już wykonane prowadzą, co wielu podkreśla, do duopolu politycznego w Polsce i na scenie jesienią pozostaną tylko dwa wiodące ugrupowania polityczne?
Faktem jest, że Platforma Obywatelska traci na poparciu w gigantyczny sposób nawet z dnia na dzień. Wynika to z kilku czynników i wielu błędów, które ten obóz popełnił, poczynając od ogłoszenia się "opozycją totalną" i zakładając, że podobnie jak jakiś czas temu udało się rozbić koalicję PIS/LPR/Samoobrona, tak teraz uda się rozbić obóz Zjednoczonej Prawicy w krótkim czasie. Kolejnym błędem było przejęcie narracji PIS w walce z PIS, a tymczasem PIS wciągnął PO na swoje boisko i zaczął rozgrywać ją po swojemu jak przedszkolaków. Następnym elementem jest brak ideologicznego zaplecza politycznego, tzw. think tanku, bo ten co był zaczął przeżywać problemy po osadzeniu na jego czele człowieka-prezesa, o przypadkowo brzmiącym nazwisku "Wałęsa", a jak wiadomo, z tego grona intelektualiści raczej się nie wywodzą. Kolejne założenia, że Polacy zmiękną jak im się zacznie grozić, nachalnie wtłaczać LGBT, albo nadal straszyć PISem i probować PIS ośmieszać, spełzły na ni-czem. A już najgorszym pomysłem była próba walki z Kościołem w Polsce. Nie będę się o tym rozpisywał, bo każdy Polak to rozumie, a obcym nie mam zamiaru ułatwiać życia.
Dlaczego na przykład wyborcy Nowoczesnej przechodzą do SLD? A niby dlaczego mieliby przechodzić do PO, skoro to właśnie SLD ograło PO. Pan Schetyna cieszył się krótkim zwycięstwem, ale to strateg widzący daleko nie jest, więc umie patrzeć na kilka miesięcy, czy może kilka lat do przodu. Nic więcej. Jestem też przekonany, że w szachy nie grywa. Tuska też już politycznie nie ma. Oczywiście to jest spec w tym, co robi, ale jego narracja i triki na nic się nie zdadzą, chociaż oczywiście kilku zahipnotyzuje swoją "aurą" i sztuczkami węża. W życiu i polityce zawsze jest jednak tak, że ludzie ciągną do silniejszego. Wydaje mi się więc całkiem naturalne, że wyborcy, którzy zrazili się i do samego PO i do taktyki prowadzenia i partii i kampanii politycznych, będą poruszali się w kierunku obozów przeciwnych do PIS i Zjednoczonej Prawicy.
Co z Kukizem? Ja osobiście uważam, że ten obóz powinien pozostać jako przeciwwaga do PIS, bo taką przeciwwagą na pewno nie może być proniemiecka PO. Może udałoby się to SLD, gdyby wystarczająca ilość wyborców przeszła z Wiosny, ale ta opcja podobnie jak całe PO KO/KE posiada program antypolski. Propagują aborcję, zboczenia w imieniu bliżej nieokreślonych interesów. Cały ten program jest niespójny i nie bardzo wiadomo, jaką mają wizję Polski za 10/50/100 lat. O ile taką wizję Polski w ogóle mają.
Najgorzej, chociaż z tego faktu jestem osobiście zadowolony, wyszedł na tych ostatnich zmianach politycznych PSL. Zupełnie bez koncepcji. Dla ratowania kilku stołków w Brukseli poświęcono swoje struktury i wyborców w Polsce. A już całkowitym gwoździem do trumny było przystąpienie do Koalicji Europejskiej, z jej antypolskimi i antychrześcijańskimi koncepcjami zmiany Polski. Tak więc myślę, że PSL zniknie ze sceny. Kilku może się przebić do innego obozu i pozostać w polityce.
Podsumowując myślę, że dla polskiej sceny politycznej dobrze byłoby na jesieni mieć w polskim parlamencie na pewno PIS z całą Zjednoczoną Prawicą i Kukiza. Na pewno nie chciałbym tam widzieć PO, SLD, Nowoczesnej. Osobiście szkoda mi Narodowców, ponieważ po raz kolejny zostali rozpracowani przez "protokół 1%". Co prawda tym razem było 4.55%, ale jak nie trudno policzyć, jeśli PO oddało 2%, Kukiz oddał 2%, to z 1.78% Narodowców nawet ubyło.
Czy pozostaną tylko dwie partie? W obecnej sytuacji wszystko jest tak dynamiczne, że scenariusze mogą być bardzo różne. Osobiście obstawiałbym, że jednak będą 3 – PIS ze Zjednoczoną Prawicą, Kukiz i SLD. Myślę, że przy tych wszystkich zawirowaniach i kompromitacjach, jakich wszyscy byliśmy świadkiem, PO po wyborach popadnie w polityczny niebyt i po prostu zniknie ze sceny politycznej.