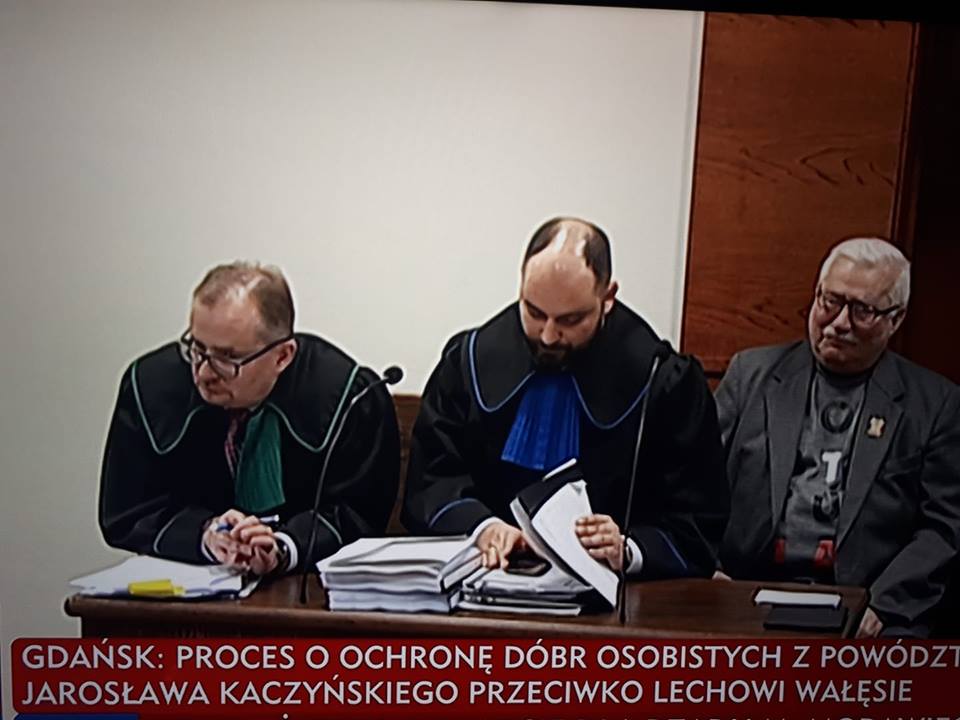 Prezes PIS Jarosław Kaczyński pozwał byłego Prezydenta Lecha Wałęsę o naruszenie dóbr osobistych. Przyczyną złożenia pozwu przez Jarosława Kaczyńskiego była wypowiedź Lecha Wałęsy na Twitterze, jakoby Kaczyński wydawał polecenie lądowania w Smoleńsku Śp. byłemu prezydentowi Lechowi Kaczyńskiemu, tym samym oskarżając Jarosława Kaczyńskiego o bycie odpowiedzialnym za katastrofę smoleńską.
W procesie Jarosław Kaczyński domaga się też przeprosin od Lecha Wałęsy za jego słowa, że "nie jest zdrowy, zrównoważony psychicznie". Przedmiotem sprawy jest również zarzut Wałęsy, jakoby Kaczyński wydał polecenie "wrobienia" go i przypisanie mu współpracy z byłymi służbami PRL.
W sądzie stawili się obaj osobiście. Wałęsa składał zeznania przez około pół godziny, po czym opuścił gmach sądu, a w dalszej części rozprawy uczestniczyli jego przedstawiciele.
Przed sądem Lech Wałęsa był pytany m.in. o swoje słowa w programie "Kropka nad i" z 14 w lipcu 2016 r. skierowane pod adresem Jarosława Kaczyńskiego: "Człowieku schowaj się i to tak, żeby nikt cię w życiu nie widział. Nie pokazuj się na oczy. Szkodzisz Polsce i demokracji. Ośmieszasz nas na cały świat. Człowieku co ty robisz, idź do lekarza, niech dadzą ci żółte papiery, jak to się nazywało".
Na temat traumy Jarosława Kaczyńskiego oraz tego, że zdaniem Wałęsy trauma ta wpływa na decyzje polityczne Kaczyńskiego, Wałęsa powiedział: "On wie, że ja mówię prawdę. On wie, że wpływał na decyzję. Tak chcieli rozpocząć kampanię prezydencką, z przytupem. Zabrali prawie cały rząd, więc co to jest. Mają teraz taki garb na plecach. I jak on to wytrzymuje? Nie dziwię się, że wpada w różne nieprzyjemne rzeczy".
Sędzia zapytała też Wałęsę na jakiej podstawie "wysnuwał w tych wypowiedziach swoich na Facebooku oraz w wypowiedziach wobec dziennikarzy, że to właśnie pan powód Jarosław Kaczyński w ostatniej telefonicznej rozmowie z bratem kazał mu doprowadzić do lądowania w Smoleńsku". Wałęsa odpowiedział: "Na bazie znajomości tych ludzi i na bazie znajomości podejmowania decyzji jestem przekonany, że tak było, że po mojej stronie jest prawda. Że ta decyzja była źle podjęta przez nich" – mówił b. prezydent. Jak dodał, "sam wylot był nieodpowiedzialny, sam wyjazd był nieodpowiedzialny, i lądowanie było nieodpowiedzialne". "Nikt o zdrowym zmyśle, umyśle nie podjąłby takich decyzji nieodpowiedzialnych". I dodał też: "Wszystko podtrzymuję i będę dalej to robił".
Wypowiedź Wałęsy na temat rzekomego istnienia taśm nagraniem rozmowy byłego prezydenta Lecha Kaczyńskiego i jego brata Jarosława Kaczyńskiego była następująca: "Nie przypuszczam, aby mimo wszystko, mimo kiepskich ocen tej ekipy, żebyśmy nie byli gdzieś tam podsłuchiwani. Te taśmy muszą być" (…) "Jeszcze długo będziemy czekać aż ta taśma <<wyjdzie>>, ale ona <<wyjdzie>> prędzej czy później".
Źródło: PAP
Zdjęcie: zrzut ekranu TVP.info