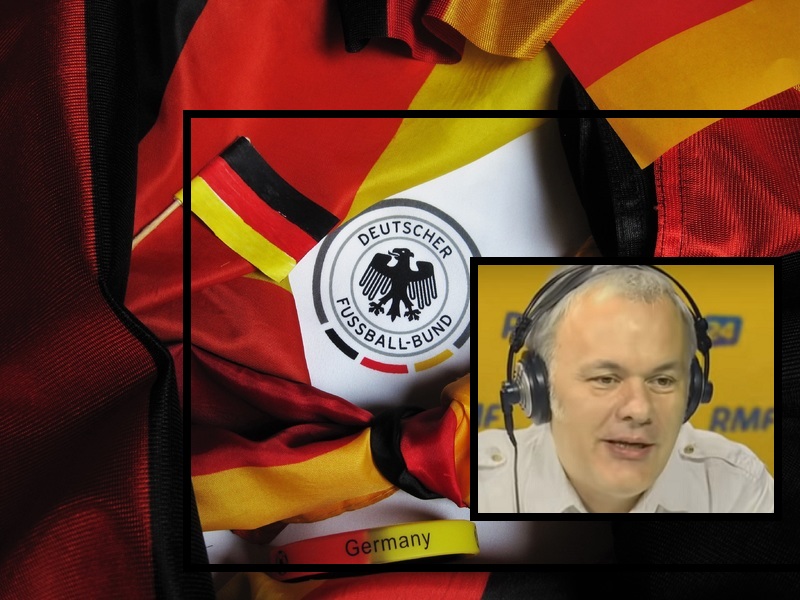 Już pisałem o cwaniactwie, jakim kierują się projektujący media z niemieckim kapitałem w Polsce.
Dla przypomnienia i pro forma przypomnę tylko, że do czasu antenowego w tych mediach wstawia się osoby obiektywne o dobrej opinii społecznej po to, żeby przyciągnąć słuchaczy albo widzów. Ma to służyć temu, żeby widzowie tudzież słuchacze mieli poczucie obiektywności. Oczywiście o żadnej obiektywności mediów niemieckich nie ma mowy – one reprezentują tylko i wyłącznie niemieckie interesy i niemiecki punkt widzenia. Jednym z takich obiektywnych i rzetelnych dziennikarzy – moim zdaniem – do teraz był Robert Mazurek, znany wszystkim z profesjonalizmu i znakomitego stawiania do pionu swoich gości oraz ciętych ripost.
Jego audycje i teksty nadal mi się podobają, bo fachowość bez względu na opcję należy cenić. Jak jednak słusznie zauważyła Danuta Holecka z TVP, wygląda na to, że redaktor Mazurek zaczął uprawiać "dziennikarstwo stadne", do spółki z Tomaszem Lisem, Agnieszką Kubik czy Elizą Michalik … i wieloma innymi. Może też być tak, że jemu także należy postawić pytanie: "Bo jesteś dziennikarzem, prawda?"
To, co łączy wszystkich przed chwilą wymienionych, to kapitał niemiecki, a RMF FM, w którym Mazurek pracuje – no cóż – nie da się ukryć – to też ten sam kapitał.
Trochę będę złośliwy. Trudno, nie pierwszy raz.
Po odebraniu mediów publicznych z rąk PO/PSL, czyli postkomunistycznej nowo niemieckiej i nowo rosyjskiej kliki, na rynku zaczęło się zauważać pewną równowagę między mediami z Czerskiej i tymi pro polskimi, albo jak kto woli – pozostałymi. I bardzo dobrze. Niech widzowie, czytelnicy czy słuchacze mają wybór. Niech czytają, oglądają i słuchają różnych opinii i wyciągają własne wnioski. O to przecież w tym wszystkim chodzi. I tu pochwalę – pewnie przewrotnie – fakt braku repolonizacji mediów i bardzo słuszną, jak się okazuje decyzję, pewnie prezesa Kaczyńskiego, żeby tego nie robić. Już wyjaśniam.
Pomimo sytuacji, że mediów z kapitałem niemieckim nadal jest więcej i mają większe środki i łącznie większe zasięgi, to nie umieją się przebić do opinii społecznej tak skutecznie, jak to robi obecnie TVP, Radio Maryja czy inne pro polskie media, nawet takie jak nasz malutki portal.
Dlaczego tak się dzieje? Będę brutalnie szczery – bo w realnej rzeczywistej rynkowej konkurencji bez niemieckich łapówek i sponsoringu, bez pomocy tatusia czy mamusi, resortowe dzieci i media z kapitałem niemieckim są po prostu beznadziejnie słabe i cienkie. Nie wytrzymują konkurencji na normalnym konkurencyjnym rynku z Polakami. Tak po rostu! Kaczyński – tak myślę – doskonale o tym wiedział i pozwolił, żeby to samo się toczyło dalej we własnym tempie i po własnych torach, ponieważ Polacy doskonale sobie radzą w trudnych sytuacjach, co widać i w tym przypadku.
Lepsze jest wrogiem dobrego, a pewnych zmian najzwyczajniej nie da się przyspieszyć.
Odnosząc się zaś do chamskiego stwierdzenia pana – powiedzmy redaktora – Mazurka, że dziennikarze TVP powinni nosić mundury jak za Jaruzelskiego, to może wypada panu Mazurkowi również zaproponować – może być nawet jako odbicie piłeczki – włożenie munduru od Hugo Bossa. Może pójdzie on dalej, skoro nie lubi grać w chórze i przyozdobi go sobie sześcio kolorową tęczą, żeby się bardziej przypodobać pracodawcy – Niemcy przecież tyle wydają na promocję zboczeń i LGBT, nawet u nas w Polsce. Może też tam dołączyć emblematy dzika, kornika drukarza, a nawet Mierzei Wiślanej. No i jakiś kawałek torfowiska spod Augustowa.
Tutaj jak ulał pasuje też nasze stare polskie przysłowie: Kiedy wejdziesz między wrony kraczesz jak i one. No tutaj to nawet dosłownie pasuje w odniesieniu do czapeczki od munduru tegoż samego Hugo Bossa.
Zdjęcie: pxhere.com/Youtube/RMF FM