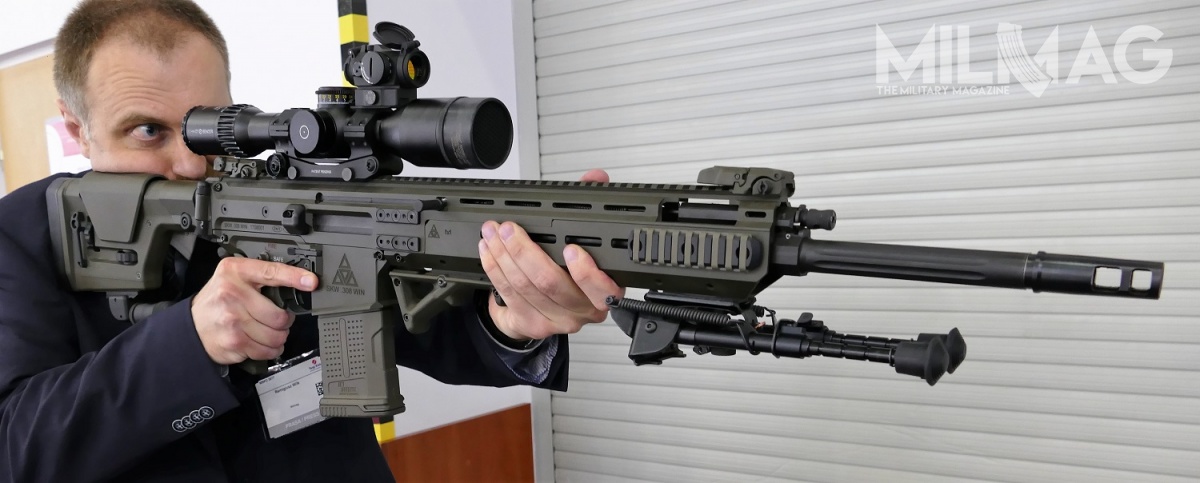 Zakłady Mechaniczne Tarnów (ZMT) zaprezentowały podczas MSPO dwa modele samopowtarzalnych karabinów wyborowych rodziny SKW (Samopowtarzalny Karabin Wyborowy). Powstały one z własnych środków ZMT. Rozwój broni jest na początkowym etapie, pierwsze strzelania z nowych SKW308 i SKW338 będą przeprowadzone na przełomie września i października. Kompletowanie obu konstrukcji zakończono kilka dni przez rozpoczęciem kieleckiej imprezy. Jak dowiedział się MILMAG, jeżeli zostanie ogłoszone formalne postępowanie na samopowtarzalne karabiny wyborowe (następców SWD), ZMT zamierza zaproponować swoje konstrukcje.
SKW338 jest ideową kontynuacją programu pod tą samą nazwą, który rozpoczął się w 2010. Za rozwój odpowiada dwuosobowy zespół młodych konstruktorów: Roman Uznański i Rafał Szela. Odzeszli oni od koncepcji tworzenia broni w układzie bezkolbowym i powrócili do modelu klasycznego. Pierwotny projekt zakładał tylko opracowanie samopowtarzalnej konstrukcji wyborowej zasilanej nabojem 8,6 mm x 70 (.338 Lapua Magnum). Okazało się, że dzieło inżynierów z Tarnowa można łatwo skalować z większego do mniejszego kalibru. Stąd też w pierwszej kolejności postanowiono stworzyć także model SKW308 zasilany nabojem 7,62 mm x 51.
SKW338 i SKW308 mają wydzieloną komorę zamkową z grzbietową monolityczną uniwersalną szyną montażową NAR (NATO Accessory Rail) i komorę spustową, której nadano funkcjonalność i ergonomię przypominającą amerykańskie karabiny AR-10 i karabinki AR-15. Niezależnie od kalibru, broń działa w oparciu o wykorzystanie energii gazów prochowych oddziałujących na tłok o krótkim skoku. Mechanizm gazowy wyposażono w kilkupołożeniowy regulator, gdyż broń dostosowana jest do strzelania z tłumikiem dźwięku.
Prezentowany na MSPO model SKW338 do amunicji 8,6 mm x 70 wyposażono w 660-mm (26-calową) lufę, zaś mniejszy SKW308 ma lufę długości 508 mm (20 cali). Masa pierwszego to 8 kg, drugiego niespełna 6 kg. To właśnie kryterium masowe było powodem, dla którego konstruktorzy z ZMT nie zdecydowali się na tworzenie konstrukcji wielokalibrowej. Niemniej, karabiny wyposażono w łatwowymienne lufy. Do ich demontażu wystarczy ściągnąć łoże i użyć klucza do poluzowania nakrętki mocującej. Sama obsada lufy z komorą ryglową mocowana jest do komory zamkowej za pomocą sześciu śrub.
Komora zamkowa jest odmienna od systemu AR, tak samo inny jest zespół ruchomy i powrotny. Suwadło niesie wieloryglowy, obrotowy zamek, ale to koniec podobieństw. Nad suwadłem umieszczono ruchomy wózek z obustronnymi rękojeściami napinania (można dowolnie je konfigurować, zostawić obie lub używać tylko jednej). Dzięki temu po przeładowaniu pozostają one nieruchome podczas strzelania, a jednocześnie można ich użyć do dopchnięcia zespołu ruchomego w razie zanieczyszczenia czy awarii.
Sam zespół powrotny ma postać tylca ze sprężyną powrotną i zderzakiem, oparty o tylną ścianę komory zamkowej. Dzięki temu można było wprowadzić w modelach rodziny SKW kolbę składaną pod skosem. W przeciwieństwie do AR-10/AR-15, nie mieści ona w wysuniętej z komory spustowej tulei sprężyny powrotnej. Zachowano jednak identyczną obsadę, dzięki czemu można na polskiej broni mocować komercyjne kolby.
Komora spustowa przypomina znaną z systemów AR, dotyczy to także ukształtowania gniazda magazynka. W przypadku SKW308 zastosowano 20-nabojowy komercyjny magazynek IMI Defense z tworzywa sztucznego. Do modelu SKW338, ze względu na brak komercyjnych rozwiązań, opracowano własny, stalowy magazynek także na 10 sztuk amunicji. Zabawnym pomysłem jest wykorzystanie na jego dnie logo ZMT, którego środkowy trójkąt służy jako przycisk do rozkładania.
Identyczne jak w systemie AR jest rozmieszczenie manipulatorów na komorze spustowej. W rodzinie SKW zastosowano obustronny przełącznik rodzaju ognia. Co ciekawe, eksperymentalnie w SKW338 odbezpieczenie następuje po przemieszczeniu skrzydełka o 90 stopni, zaś w SKW308 o 45 stopni. Reszta manipulatorów – dźwignia zatrzasku magazynka i dźwignia zwalniająca zespół ruchomy z tylnego położenia są identyczne, jak w AR-10/AR-15.
Twórcy broni zdecydowali się tak zaprojektować komorę spustową, aby pasowały do niej dowolne komercyjne mechanizmy spustowe wraz z samymi językami spustowymi. W prezentowanych modelach zastosowano amerykańskie modele Geissele Automatics, wraz z dodatkowym wzmocnieniem, blokadą kurka. Podobnie użyto komercyjnego chwytu pistoletowego standardu AR-15 i samych dźwigni bezpiecznika niemieckiego Hera Arms.
SKW338 anodowano w kolorze czarnym, zaś w przypadku SKW308 broń też jest anodowana, choć nałożono na nią warstwę oliwkowego pokrycia ceramicznego Cerakote. Co ciekawe, zastosowano w broni stalowe, wymienne prowadnice suwadła. To element, który najszybciej się zużywa, stąd nie został wykonany z aluminium. Wymiana wymaga odkręcenia sześciu śrub, którymi prowadnice przymocowano do komory zamkowej.
Rozkładanie broni wymaga najpierw wybicia dolnego łącznika komory spustowej, uchylenia jej zawiasowo, następnie górnego łącznika komory zamkowej, w celu demontażu urządzenia powrotnego i suwadła. Ostatnim krokiem jest wysunięcie łącznika łoża i jego demontaż. Warto zwrócić uwagę, że w rodzinie SKW zastosowano standard mocowania akcesoriów Magpul MLOK. Zasady licencji wymagają umieszczenia na łożu logo amerykańskiego producenta, co może zaskakiwać. Znajduje się ono obok logo ZMT.
Skalowalność konstrukcji rodziny SKW oznacza, że można je bez problemu dostosować do mniejszych kalibrów w tym do amunicji 5,56 mm x 45. W planach jest także opracowanie odmiany do naboju 7,62 mm x 67 (.300 Winchester Magnum) i – z przeznaczeniem na eksport – modelu do 7,62 mm x 54R. Konstruktorzy zastanawiają się nad zasilaniem tego ostatniego z oryginalnych magazynków 10-nabojowych od SWD (karabinu wyborowego Dragunowa). Z uwagi na to, że broń rodziny SKW strzela tylko ogniem pojedynczym i jest opracowana od podstaw przez ZMT (tarnowski zakład ma pełnię praw do jej konstrukcji, która chroniona jest wspólnotowym wzorem przemysłowym), bez przeszkód będzie mogła być oferowana na rynku cywilnym.
Tekst i zdjęcia pochodzą z Magazynu Militarnego MILMAG.
Przeczytaj więcej na: http://www.milmag.pl/news/view?news_id=258
Zapisz