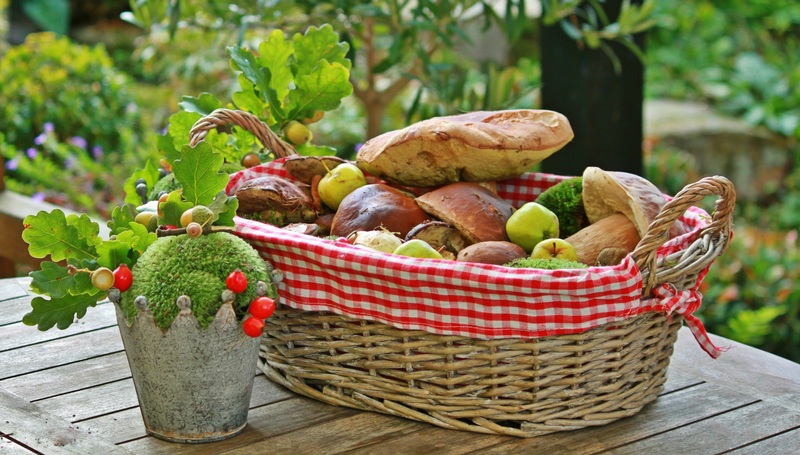 Każdego roku amatorzy grzybów szukają dorodnych kapeluszy, które trafiają na stół. Obok maślaków, kurek, podgrzybków czy prawdziwków, występują również gatunki trujące. Należy zbierać tylko dorosłe grzyby, jednak nie stare. Dojrzałe grzyby mają wykształcone wszelkie cechy charakterystyczne pozwalające rozpoznać gatunek. Istotne znaczenie mają szczegóły budowy takie jak: zabarwienie, pory lub blaszki, obecność pierścienia i pochwy. Znaleziony grzyb powinien być cały ponieważ trudno ustalić jego jadalność po samym kapeluszu lub trzonie. Nie zbieramy grzybów po ulewnych deszczach, kiedy ściółka jest zbyt wilgotna, grzyby pleśnieją i znacznie szybciej się rozkładają. Są też bardziej podatne na atak insektów.
Najprostszym ze sposobów na odróżnienie grzyba jadalnego od trującego jest przełamanie kapelusza lub trzonka. Kiedy spróbujemy i będzie on gorzki, najpewniej oznacza to, że grzyb jest trujący, mówią specjaliści grzybiarze. Warto zwrócić uwagę na spodnią cześć kapelusza, jeśli pokryta jest blaszkami, to grzyb może być trujący, z wyjątkiem kurek i kani. Bardzo pomocne przy grzybobraniu mogą być również atlasy grzybów. Nosząc je ze sobą mamy szansę ocenić grzyba tuż przed zerwaniem i upewnić się, czy jest on jadalny, czy nie.
To dobra nauka. Grzyby trujące nie służą ludziom, ale są niezbędne w ekosystemie. Nie powinno się zbierać zbyt młodych, ani zbyt przejrzałych grzybów. Zbiory należy przechowywać w odpowiednich pojemnikach, ponieważ nawet jadalne grzyby, po włożeniu ich do worka foliowego lub reklamówki mogą wytwarzać substancje trujące, a nawet szkodliwe dla zdrowia.
Amatorzy grzybów, którzy nie znają się na grzybobraniu mogą pokusić się na ich zakup u sprzedawców oferujących swoje zbiory przy drogach. – to jednak dość ryzykowny zakup. Sprzedawca grzybów powinien posiadać atest, który jest ważny przez 48 godzin w warunkach do 10 stopni Celsjusza. Kupując grzyby, należy zapytać sprzedawcę, czy ma taki atest.
A co w przypadku jeśli jednak zjemy grzyba niejadalnego lub, co gorsza, trującego? Jeśli dojdzie do nudności, biegunki, czy wymiotów, należy natychmiast skontaktować się z lekarzem. Objawy zatrucia występują po kilku godzinach, nawet na drugi dzień. Przeważnie objawy te są już bardzo silne i najprawdopodobniej doszło do uszkodzenia wątroby. Spożywając grzyby, trzeba być bardzo ostrożnym, a brak odpowiedniej reakcji może skończyć się uszkodzeniem wątroby i nerek, nie mówiąc już o tym, że często prowadzi to do śmierci. Poniżej opis kilku gatunków grzybów jadalnych.
Bardzo łatwo pomylić borowika szatańskiego z borowikiem ponurym lub purpurowym. Ma on poduszkowaty biało-szarawy kapelusz, od spodu jest żółty, a podczas dojrzewania staje się czerwonawy, pękaty, żółty, trzon u dołu także czerwonawy. Taki grzyb ma żółtawy miąższ, starsze okazy mają specyficzny nieprzyjemny zapach.
Mleczaj rydz ma kapelusz o średnicy 4-10 cm. Wewnątrz jest wklęsły lub lejkowaty, zabarwienie pomarańczowe z ciemnymi smugami. W miejscach uszkodzonych pojawiają się plamy brudnozielone. Z przekrojonych grzybów wypływa pomarańczowe mleczko.
Gąska zielonka charakteryzuje się kapeluszem o szerokości 5-10 cm i barwie żółtozielonej lub brązowo-oliwkowej, kapelusz jest nieregularny, osadzony na wygiętym i krótkim trzonie. Miąższ ma kolor biały, miejscami przy brzegu żółtawy.
Koźlarz czerwony posiada gruby, gładki oraz mięsisty kapelusz o średnicy 6-15 cm barwy pomarańczowej, od spodu jest szary. Białawy trzon pokryty jest brązowo-czerwonymi łuskami. Przekrojony miąższ koźlarza ma zabarwienie ciemnoszare lub liliowe.
Podgrzybek zajączek wyróżnia się zamszowym, aksamitnym kapeluszem o szerokości 3-10 cm w kolorze oliwkowym lub brązowym. Trzon jest prosty, ale może zdarzyć się też lekko wygięty, blado-żółtawy. Miąższ nie ciemnieje, a skórka nie daje się oddzielić od miąższu.
Podgrzybek brunatny o kapeluszu znacznie większym od 3-15 cm, ma ciemnobrązowy kolor, a od spodu dobrze widoczne są jasnożółte rurki. Trzon ma grubość 4-12 cm, kształt walcowaty, jasnobrązowy. W miejscach uszkodzonych staje się zielononiebieski. Jest dość aromatyczny.
Borowik szlachetny charakteryzuje się dużym mięsistym kapelusz o średnicy 6-25 cm. Powierzchnia kapelusza w różnych odcieniach brązu, dolna część żółtawozielona lub biała, trzon biały. Po przekrojeniu nie zmienia barwy, dobrze pachnie i smakuje.
Maślak zwyczajny ma szeroki brązowy kapelusz o średnicy 5-15 cm pokryty lepką, łatwą do usunięcia skórką. Trzon niski jasnożółty z charakterystycznym pierścieniem. Na spodzie kapelusza widoczne żółtawe rurki.
Maślak sitarz również ma szeroki brązowy kapelusz o średnicy 5-15 cm pokryty lepką skórką, osadzony na niskim jasnożółtym trzonie. Bardzo podobny do maślaka zwyczajnego, niemal nie do odróżnienia.