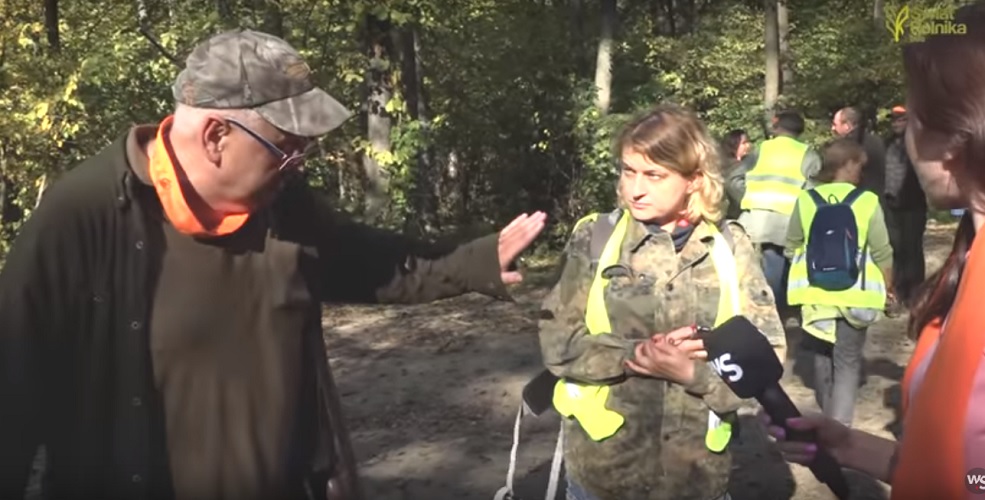 O tym, jak tzw. ekolodzy utrudniają życie społeczne w Polsce słyszymy już w mediach od wielu lat. Jakiś czas temu utrudniali budowę obwodnicy Augustowa, bo podobno jakieś bardzo rzadkie gatunki były zagrożone wyginięciem. Jak się jakiś czas później okazało chodziło o to, żeby polski transport i polska flota tirów nie stały się większe niż inne w Europie, a głównie niemiecka i francuska.
Później wielkim wrogiem Puszczy Białostockiej okazała się wycinka drzew przed kornikiem drukarzem. Bo to natura 2000, bo to takie bardzo unikalne te drzewa. Może były inne, może sosny przestały być okrągłe? Ekolodzy mieli w głębokim poważaniu los tysięcy innych drzew, które zostałyby zarażone przez tego samego kornika. Wkrótce potem okazało się, że w Niemczech wycinany jest prastary las, gdzie są pokłady węgla i żadna natura 2000, żadne korniki czy inne gatunki nie były przeszkodą, żeby go wyciąć. Protestowało co prawda kilku ekologów, ale zostali tak brutalnie potraktowani przez niemiecką policję i inne służby jako wrogowie publiczni, że innym najprawdopodobniej przeszła ochota na kolejne protesty. I takie właśnie podejście wydaje się chyba najbardziej odpowiednie w bardzo wielu przypadkach, w tym w Polsce.
Gdzie tu jest jakaś podstawowa logika? Jak się okazuje pewna jest.
Okazuje się, że tzw. ekolodzy pojawiają się zwykle tam, gdzie można coś zepsuć a nie naprawić. Pokazują się przy prawie każdej okazji tego typu. Internetowy program telewizji wsensie.pl pt. "Blokują każdą inwestycję w Polsce – kim są?" pokazuje kolejny przykład takiego ekoterroryzmu, a mianowicie blokowanie przez tzw. ekologów legalnych polowań i planowanego odstrzału zwierzyny, głównie dzików z uwagi na zagrożenie ASF. Ich akcje nasiliły się po ubiegłorocznej zmianie przepisów dotyczących prawa łowieckiego i co ciekawe w procesie legislacyjnym do tej ustawy czynny udział brali ci sami ekolodzy. Okazuje się bowiem, że blokowanie odstrzału dzików powoduje niszczenie przez nich pól, a to naraża państwo na płacenie rolnikom odszkodowań, a samych rolników pozbawia plonów. Takich odszkodowań rolnicy mają prawo żądać od lokalnych kół łowieckich. Tzw. obrońcy zwierząt narażają więc na straty i budżet państwa i normalne funkcjonowanie gospodarstw rolnych w Polsce. Ci ekolodzy stawiają prawa zwierząt wyżej niż prawa człowieka. A podstawą działania myśliwych jest regulacja populacji zwierząt, tak by nie stanowiły one zagrożenia dla człowieka i upraw rolnych. W Holandii na przykład przed rokiem 2016 rząd wprowadził zakaz odławiania dzikich gęsi. Ich populacja zaczęła wzrastać w takim tempie, że zaczęły być zagrożeniem w komunikacji lotniczej. Wprowadzono zmiany i od 2016 ptaki te są na masową skalę odławiane i hurtowo gazowane, a Holandia płaci 5 EURO za odłowioną sztukę.
Według raportów policji w Polsce w roku 2017 doszło do 24 604 kolizji, których powodem było pojawienie się na drodze dzikich zwierząt, z czego 195 zderzeń bezpośrednich, w wyniku czego 10 osób straciło życie, a ciężko rannych zostało 229 osób. Większość działań straży pożarnej przy wypadkach dotyczy właśnie zwierząt powodujących wypadki, a śmiertelność z tego powodu jest w Polsce najwyższa w Europie.
Z uwagi na ASF odstrzał dzików jest konieczny. Ekolodzy są głusi na argumenty o regulacji populacji dzikiej zwierzyny, a Polskę określają jako "zaścianek" i powołują się na zachodnie wzorce. Jakie są te standardy w tzw. cywilizowanej Europie? Otóż 840 000 dzików zostało odstrzelonych w Niemczech z obawy o ASF, a w Polsce ekolodzy utrudniają takie odstrzały. Polska branża wieprzowiny jest warta około 20 mld złotych. Jeśli ASF będzie nadal zagrożeniem, to eksport spadnie, a hodowcy stracą, a nawet mogą zbankrutować. Kto na tym skorzysta? Oczywiście państwa tzw. cywilizowanej Europy. A może to właśnie jest przypadkiem na rękę ekologom? Pojawia się kolejne pytanie: dlaczego?
Ostatnio mamy realizację przekopu Mierzei Wiślanej. W protesty szczególnie – jak podaje portal wpolityce.pl – włącza się organizacja Eko-Unia, która jest finansowana między innymi ze środków Georga Sorosa oraz instytucji podległych niemieckiemu rządowi. Jak pokazuje raport finansowania za rok 2017 organizacja ta najwięcej środków otrzymuje od niemieckiego Federalnego Ministerstwa Współpracy Gospodarczej i Rozwoju (BMZ) oraz Ministerstwa Edukacji i Badań Naukowych Niemiec (BMBF). Od obu tych ministerstw na rzecz fundacji wpłynęła niebagatelna kwota kilkudziesięciu milionów euro.
Jak więc wynika z zaprezentowanych przykładów działania ekologów są opłacane i dla wielu z nich jest to sposób na życie. Wnioski nasuwają się już w zasadzie same, że nie mamy tu do czynienia z ekologią, a ekoterroryzmem a nawet piątą kolumną i świadomą działalnością na szkodę Polski i Polaków.
Źródła: wpolityce.pl. wSensie tv
Zdjęcie: Youtube/wSensie tv