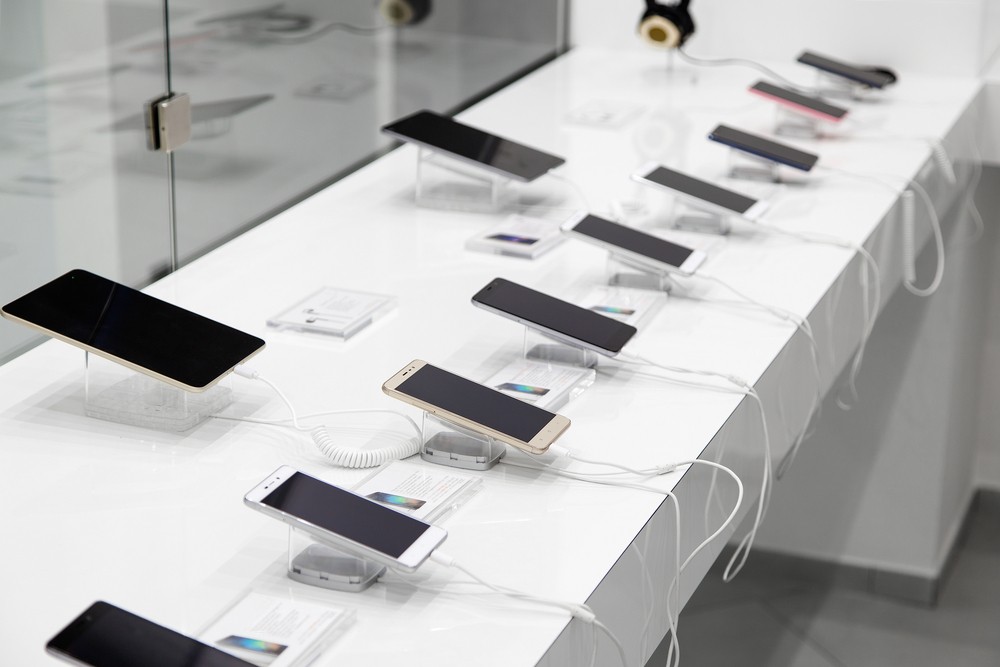 Ile powinien kosztować smartfon? Na to pytanie nie ma jednoznacznej odpowiedzi – koszt telefonu zależy od wielu czynników, w tym między innymi od zamkniętych pod obudową podzespołów. Nie zawsze jednak potrzebujemy sprzętu najnowszej generacji – w wielu wypadkach wystarczający okaże się smartfon z niższej półki cenowej.
Flagowce, czyli smartfony najlepsze z najlepszych
W każdy sezonie wiodące producenci telefonów komórkowych wypuszczają na rynek nowe modele. Te, które wyróżniają się najlepszymi parametrami, działają najszybciej i naszpikowane są innowacyjnymi rozwiązaniami, zyskują miano flagowców. W ślad za technologią idzie również cena – tego typu urządzenia należą do najdroższych, a ich ceny osiągają poziom nawet kilku tysięcy złotych.
O tym, że smartfon jest flagowcem, często decyduje sam producent – nie oznacza to jednak, że wybrany model będzie odpowiedni właśnie dla nas. Nie każdy potrzebuje przecież ogromnego wyświetlacza, najnowszego procesora czy potrójnego aparatu. Wiele naprawdę atrakcyjnych smartfonów znajdziemy także wśród modeli o nieco słabszych parametrach.
Cenowy kompromis – telefony ze średniej półki
Telefony, za które musimy zapłacić od 1000-2000 tys. zł. to w wielu wypadkach urządzenia w pełni satysfakcjonujące przeciętnego użytkownika. Znajdziemy wśród nich smartfony z dużym wyświetlaczem w granicach 5-6 cali, świetnym aparatem fotograficznym, czytnikiem linii papilarnych, a także odpowiednio zabezpieczone przed wodą i kurzem. Wybierając telefon z tej kategorii, możemy liczyć na ośmiordzeniowy procesor, 4 GB RAM oraz 64 GB pamięci wewnętrznej, jak również podwójny slot kart SIM.
Telefony lepsze od najtańszych, lecz mniej zaawansowane od flagowców oferuje większość producentów. W przypadku LG to np. LG X cam i LG G6. W przypadku smartfonów Nokia na uwagę zasługują np. Nokia 7 Plus i Nokia 5.1. Wiele propozycji w tej kategorii oferuje tez Huawei (np. Huawei Mate Lite 20) oraz Samsung – tutaj warto wymienić choćby Samsunga Galaxy A7 i A8.
Tanie smartfon dla niewymagających
W sklepach znajdziemy również smartfony, za które przyjdzie nam zapłacić kilkaset złotych. Już za ok. 400 zł dostaniemy Samsunga Galaxy J3 z 2016 roku, a za 500 – Huawei Y6 z 2018 roku. Modele z tej kategorii mają czterordzeniowym procesor, ok. 2 GB RAM i nieco więcej, np. 8 lub 16 GB pamięci wbudowanej. W przypadku telefonów w granicach 800-1000 zł znajdziemy już nieco więcej pamięci, często także procesor ośmiordzeniowy oraz duży wyświetlacz. Również tutaj wybierać możemy pomiędzy produktami znanych marek – nie tylko Samsunga czy Huawei, ale też Motoroli czy Nokii. Co ciekawe, wiele interesujących modeli z najniżej półki cenowe wychodzi z fabryk mniej znanych producentów.
Najlepsze smartfony oferują doskonałą jakość obrazu i dźwięku, działają płynnie oraz szybko, a także posiadają szereg funkcji i udogodnień niespotykanych w słabszych telefonach. Jeśli jednak nie jesteśmy maniakami technologii, rzadko robimy zdjęcia lub korzystamy tylko z podstawowych aplikacji, lepszym wyborem będzie dla nas model mniej zaawansowany i tańszy.