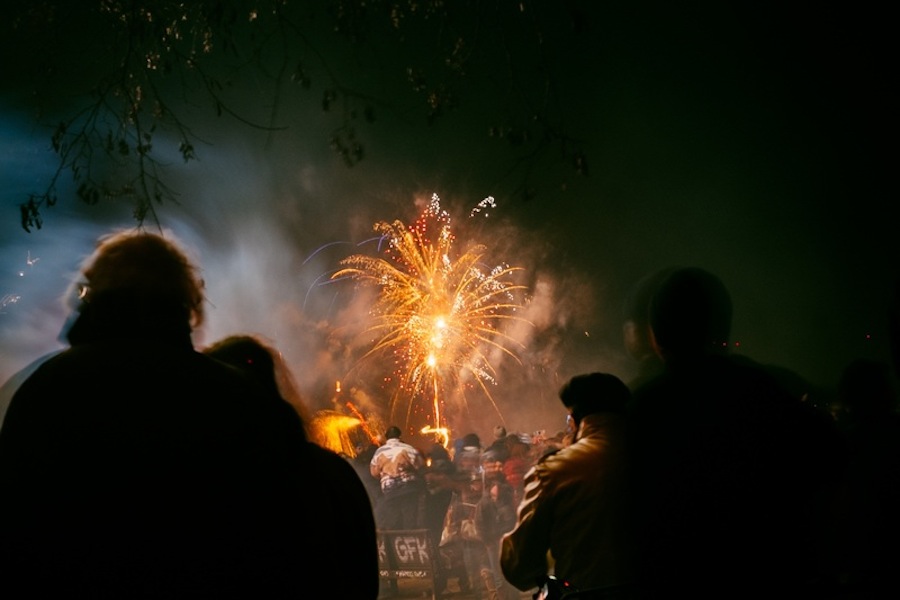 Święta za nami. Wkrótce Bal sylwestrowy rozpoczynający karnawał. Publiczne imprezy sylwestrowe cieszą się coraz większą popularnością. Uczestniczą w nich tysiące ludzi zgromadzonych na skwerach, placach czy rynkach miast. Pozostaje pytanie, czy takie imprezy są w pełni bezpieczne i o czym trzeba pamiętać podczas takich uroczystości. Okres około świąteczny, a także zakończenie starego roku to pełna mobilizacja i czujność służb ratowniczych, szczególnie Państwowej Straży Pożarnej. W jednostkach czuwają ratownicy, którzy są gotowi do natychmiastowej interwencji i działania podczas imprez sylwestrowych.
Środki bezpieczeństwa podczas takich masowych zgromadzeń muszą być wyjątkowe. Nieumiejętne obchodzenie się z petardami czy fajerwerkami prowadzi do wielu poważnych wypadków. Do najczęściej zgłaszanych należą pożar, oparzenia skóry, zapalenie się odzieży, czy włosów, jak również znaczne uszkodzenia ciała, w tym utrata wzroku, kalectwo i śmierć. Dlatego należy bezwzględnie przestrzegać ustalonych zasad.
W pierwszej kolejności warto dokładnie zapoznać się z instrukcją obsługi tych materiałów, które zamierzamy odpalić min. fajerwerków, petard, rac. To materiały łatwopalne i wybuchowe. Szczególna ostrożność dotyczy otoczenia, w którym znajdują się małe dzieci. Nie wolno używać petard w zamkniętych pomieszczeniach, na tarasach i balkonach. Wskazana jest trzeźwość, dzięki której łatwiej i szybciej reagujemy w obliczu bezpośredniego zagrożenia. Fajerwerki to nie tylko efekt uświetniający imprezę, ale ryzyko prawdziwej tragedii. Każdego roku w całym kraju podczas nocy sylwestrowej dochodzi do kilkudziesięciu wypadków. Fajerwerkami i petardami powinny zajmować się jedynie osoby dorosłe i odpowiedzialne.
Przy zakupie wyrobów pirotechnicznych trzeba sprawdzić, czy posiadają one odpowiednie atesty. nazwę produktu, klasę bezpieczeństwa, nazwę i adres producenta, liczbę wyrobów w opakowaniu, instrukcję obsługi w języku polskim. Nie kupujmy ich u przypadkowych osób. Do pokazów amatorskich należy używać fajerwerków oznaczonych jako klasa I i II. Klasa III skierowana jest wyłącznie do profesjonalnych pokazów pirotechnicznych.
W celu bezpieczeństwa oddalamy się minimum 10 m od odpalonego materiału. Chronimy w ten sposób ciało od ewentualnego oparzenia rąk i twarzy, czy znacznie poważniejszych uszkodzeń.
Istotne znaczenie ma określenie toru lotu i miejsca upadku materiałów pirotechnicznych. Nie wolno wrzucać fajerwerków do ognia, ani też próbować odpalić ich po nieudanej próbie. Taki materiał jest najprawdopodobniej wadliwy, a tym samym niebezpieczny. Zwróćmy szczególną uwagę na bezpieczeństwo osób uczestniczących w pokazie, a dzieci w ogóle nie powinny znajdować się w ich otoczeniu. Dość nerwowo na tzw. sztuczne ognie reagują zwierzęta. Wybuchy i związany z tym hałas może być dla nich bardzo traumatycznym przeżyciem, dlatego w miarę możliwości ograniczmy ich stres do minimum. Odizolujmy w zaciszne miejsce.
Zabaw z fajerwerkami należy unikać w pobliżu samochodów, stacji paliw, czy zbiorników z płynami lub gazami łatwopalnymi. Nierozważne obchodzenie się z materiałami pirotechnicznymi grozi też karą grzywny, aresztu, jak również pozbawienia wolności. Sprzedaż fajerwerków lub petard osobom niepełnoletnim jest przestępstwem i wszyscy, którzy nie stosują się do tego zakazu podlegają karze ograniczenia lub pozbawienia wolności do lat 2.
Wkrótce pożegnamy stary rok i powitamy Nowy 2018, niech tegoroczny Sylwester będzie nie tylko wspaniały i kolorowy, pełen wrażeń i fajerwerkowych atrakcji, ale przede wszystkim niech będzie bezpieczny i szczęśliwy dla wszystkich ludzi.