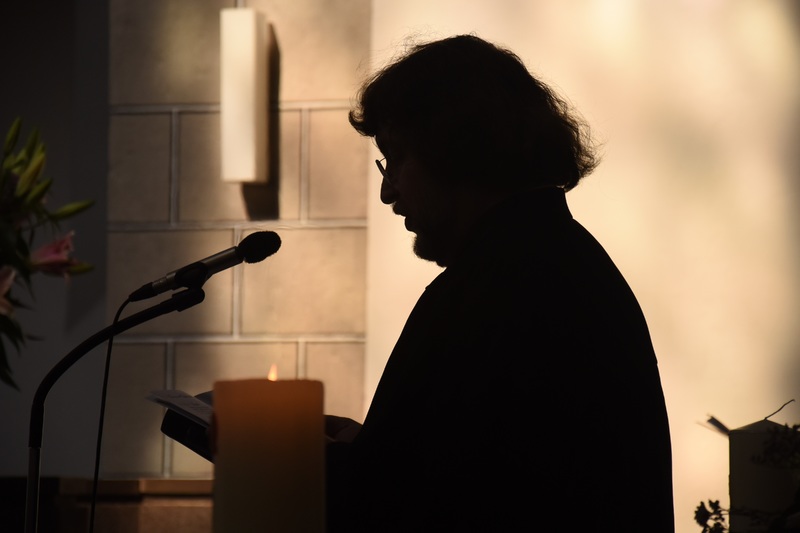 Temat jest śliski, więc będę ostrożny.
Jeden z moich znajomych opowiadał mi kiedyś o księdzu, który był potrójnym agentem. Przyłapany i zapytany dlaczego to robił, tłumaczył się tym, że w Biblii jest napisane, że nie można służyć dwom panom, ale nie ma mowy o trzech.
Jak żywo przypomina to osobowość wieloraką niektórych polityków skaczących z kwiatka na kwiatek i z partii do partii. Oddaje to również potrzebę bycia zauważonym i docenionym. Psychologowie – również w odniesieniu to teorii potrzeb Abrahama Maslowa – odwołaliby się do dzieciństwa i problemów z rodzicami, jak sądzę. Powszechnie jednak takie zachowanie określane jest jako 'parcie na szkło'. I w zasadzie nie jest to dziwne, ponieważ każdy z nas odczuwa potrzebę uznania, docenienia, bycia zauważonym, w mniejszym lub większym stopniu.
Jestem wierzącym człowiekiem, katolikiem i mam szacunek do wszystkich religii, pod warunkiem, że zabraniają mordów religijnych, w imię kogokolwiek. Ale jestem też Polakiem i mam prosty ludzki system wartości.
Od wieków sprawdza się system, że najwięcej agentów i szpiegów ukrywa się w organizacjach religijnych. Łatwo zdobyć zaufanie, odwrócić uwagę, zdobyć (wyciągnąć) informacje.
Przejdę od razu do rzeczy.
Jak więc tak popatrzymy na nasze lokalne podwórko, to przypomina mi się taki stary żart:
jakie są trzy najsprawniej działające dyplomacje na świecie?
watykańska, rosyjska i izraelska.
Na czym więc polega żart?
– Wszyscy szkolą się w Polsce.
Od jakiegoś czasu należałoby też dodać zdecydowanie dyplomację amerykańską, chińską i być może nawet niemiecką.
Szewc bez butów chodzi, jak z tego wynika. Może nie jest tak źle obecnie. Nie wypowiadam się, bo jestem laikiem w tych kwestiach.
Ponieważ religia, wiara i Bóg zawsze jakoś były mi bliskie (ma to ślad w moich genach, ale to może jakoś innym razem), to od zawsze uczestniczyłem w różnego rodzaju wydarzeniach religijnych i odbywałem całą masę rozmów o Bogu. Brałem udział w spotkaniach – i grup religijnych i sekt, i wszelkich innych, gdy tylko usłyszałem słowa 'wiara', 'Bóg', 'zbawienie' i tym podobne. Zawsze z tym samym zamiarem, lepiej poznać Boga. Kiedyś, po lekturze około 30 książek (może więcej) na temat Świadków Jehowy, po dwóch godzinach dyskusji z nimi, rozmawialiśmy w kuchni, udało mi się ich przekonać i przyznali mi rację. Byłem bardzo podekscytowany i pełen wiary, że będę w stanie ich nawrócić. Mój brat szybko ostudził moje zapały mówiąc, gdy się z nimi żegnaliśmy: 'Wyluzuj, pójdą do sąsiada i będą dalej mówili to samo, z czym przyszli do nas'.
Nie oceniam i nie deprecjonuję Świadków Jehowy jako ludzi, ale … gdy się uważnie przeczyta książkę 'The Russian Idea' autorstwa Nikolasa Bierdiajewa, nigdy nie wydaną w Rosji, a przypadkiem chyba w Anglii, tylko w języku angielskim jak do tej pory, to widać wyraźnie, że koncepcja tychże Świadków Jehowy, wywodzi się z koncepcji swarzycy, jedności Słowian i obrony przed światem zachodnim. Ciekawy jest fakt, kiedy i gdzie te koncepcje powstały. Mianowicie na przełomie XVIII i XIX wieku w carskiej Rosji. Jest to okres, kiedy Rosja usilnie broniła się przed wpływami Zachodu i przeżywała pierwsze, tak pierwsze, koncepcje filozoficzne. XXII wieki po Arystotelesie i Platonie. I właśnie wtedy zaczęły powstawać pierwsze reakcje i pierwsze opracowania na ten temat. XXII wieki zastoju w rozwoju cywilizacyjnym. Do czego zmierzam? Rosyjska potęga militarna jest obecnie niezaprzeczalna, ale historia myśli i jej tradycja – niekoniecznie.
Ciekawe jest również to, że wyznanie Świadków Jehowy w Rosji jest ustawowo zakazane, a u nas na ulicach w centralnych miejscach na przykład Warszawy pojawiło się ich jakoś więcej. I nie mówią zbyt dobrze po polsku, a akcent jest jakiś taki "wschodni".
Inny przykład.
Uczestniczyłem w spotkaniach i mszach kościoła protestanckiego, wywodzącego się z Ukrainy. Już brzmi ciekawie, prawda? 'Pastorem' był były żołnierz z czasów sowieckiej Rosji. Głównym guru był pastor z USA, przyjeżdżający do Polski co jakiś czas. Tak, taki kościół funkcjonuje w Polsce. Guru bardzo mądrze mówił i widać było, że to rozumie i ma bardzo logicznie poukładane swoje nauki. Nauki miał naprawdę ciekawe, moim zdaniem. Zdradził go jednak jeden drobny szczegół. W trakcie nabożeństwa jedno z dzieci zaczęło wchodzić w jego strefę, tam gdzie nauczał. I zaczęło być dość głośne. Co zrobił guru? Oburzył się bardzo i kazał je natychmiast zabrać. Więcej nie pojawiłem się na ich spotkaniach. Dlaczego? Chrystus powiedział: 'Pozwólcie dzieciom przychodzić do mnie'.
Przechodząc do współczesności, trochę przez historię jednak, bo inaczej nie da się tego zrozumieć.
W roku 1079 Bolesław Śmiały odbudował potęgę Chrobrego. Z powodzeniem interweniował na Węgrzech i na Rusi, zdobył Kijów, koronował się na króla. Był sojusznikiem papieża, skutecznie bił Niemca. Ale duchowieństwo było wtedy w 80% niemieckie. Śmiały nie walczył z Kościołem, wręcz przeciwnie – umacniał go. Jego władza była jednak dla Kościoła zbyt silna. Gal Anonim, przecież zakonnik, w swojej kronice nazywa biskupa traditor – zdrajca. Oto fragment:
"Jako król Bolesław był z Polski wyrzucony długo byłoby o tym mówić tyle jednak ujdzie powiedzieć, że nie godziło się pomazańcowi karać pomazańca cieleśnie, za jaki bądź grzech. To, bowiem zaszkodziło mu wielce, że gdy biskupa za zdradę skazał na obcięcie członków, więc do grzechu dodał grzech My jednak ani biskupa zdrajcę uniewinniamy, ani brzydką zemstę królewską pochwalajmy, lecz ostawmy te sprawę i opowiedzmy, jak przyjęto króla Bolesława na Węgrach."
Wbrew kłamstwom Kościoła – zdrajca w sutannie nie został zamordowany, tylko zgodnie z prawem skazany przez sąd za zdradę i stracony. Gdyby było inaczej, to natychmiast w glorii męczennika zostałby świętym – wszak każdy kult jest złotodajny dla kleru. Taki św. Wojciech został kanonizowany zaledwie dwa lata po śmierci! W przypadku Stanisława okazji zwyczajnie nie było, bo ludzie zdrajcę pamiętali. Wymazywanie zdrady z pamięci narodu zajęło oszustom w sutannach aż 174 lata. Wydatnie pomógł najazd tatarski w 1241 r., który spustoszył Polskę.
Mamy obecnie jeszcze całą masę klech (księży szanuję i doceniam ich rolę w odzyskaniu przez Polskę niepodległości) zaprzedanych albo jednemu albo innemu zaborcy. Wystarczy popatrzeć nawet na pierwsze strony gazet. Zadziwiające jest, że coraz więcej z nich zaczyna bronić Polski. Nasuwa się oczywiste pytanie: dlaczego?
To są zawsze ludzie słabi i podatni na wpływy (oni to często nazywają karnością i posłuszeństwem), udający jednak wielkich i wszechwładnych. Warto chwilę poczekać, aż się wystrzelają.
Dlaczego nagle, po wiekach działania na niekorzyść Polski (to długa historia i może kiedyś szerzej to opiszę), zaczęli nam pomagać? Co więcej, jak sądzę, będą musieli nam pomagać. Otóż dlatego, że Polska jest obecnie ostatnim krajem na świecie, mogącym stać się liderem i ostoją wartości chrześcijańskich. We współpracy z Węgrami i USA oczywiście. Mam nadzieję, że też z innymi krajami.
Jeśli zniknie chrześcijaństwo, jeśli zniknie Polska, to zniknie Watykan.
Czyli, sprawdza się znów podejście siłowe. Inteligenci uginają się tylko przed potęgą. Tym razem, chyba potęgą przeznaczenia. Nie śmiem powiedzieć Boga, żeby nie być pysznym.
Czyli możemy w końcu liczyć na pomoc Kościoła. I to jest dobra wiadomość na dzisiaj.