Na rozkaz Dowódcy Armii Krajowej, gen. Tadeusza Komorowskiego "Bora", powstanie w Warszawie rozpoczęło się 1 sierpnia 1944 roku. Zadaniem AK było wyzwolenie stolicy i utrzymanie jej przez kilka dni przed wkroczeniem Armii Czerwonej. Umożliwiłoby to Delegaturze Rządu RP na Kraj, reprezentującej legalny polski rząd na wychodźstwie, objęcie Warszawy władzą cywilną i wystąpienie wobec Sowietów w roli wolnych gospodarzy swojego kraju. Była to ostatnia szansa na ratowanie niepodległości Polski, zdradzonej skrycie przez naszych zachodnich sojuszników – Wielką Brytanię i Stany Zjednoczone.
Dysproporcja sił była skrajnie niekorzystna dla strony polskiej. Wśród 50 tys. żołnierzy Armii Krajowej, Narodowych Sił Zbrojnych i Armii Ludowej, jacy przewinęli się przez nasze oddziały, na 25 przystępujących do walki tylko jeden był uzbrojony, i to w broń krótką. Tymczasem Niemcy rzucili do walki regularne formacje wojska, SS, policji, żandarmerii i oddziałów pomocniczych, wspomaganych przez ciężką artylerię i lotnictwo. Mimo to powstańcy odnieśli szereg znaczących sukcesów. Opanowali zwarte obszary Śródmieścia, Żoliborza, Mokotowa, Woli i Ochoty. Zdobyli wiele niemieckiego oporządzenia i uzbrojenia, nawet wozy bojowe i pancerne.
Wyzwolili również niemiecki obóz koncentracyjny w Warszawie – Konzentrazionslager Warschau, zwany przez warszawiaków "Gęsiówką", w którym okupanci przetrzymywali w straszliwych warunkach Żydów z różnych krajów Europy.
Warunkiem ostatecznego powodzenia powstania było wkroczenie do miasta Armii Czerwonej. Tymczasem Józef Stalin rozkazał swoim wojskom zatrzymanie się na linii Wisły i powstrzymanie od aktywnych działań przeciwko Niemcom. Ci ostatni zatem bez przeszkód pacyfikowali miasto, dokonując wielu masowych zbrodni, zarówno na żołnierzach Powstania jak i na ludności cywilnej.
Zrzuty zaopatrzenia dla Powstańców, dokonywane przez lotnictwo zachodnich aliantów (w tym polskich lotników) oraz sowieckie, było kroplą w morzu potrzeb i nie mogło zmienić sytuacji. Wobec braku żywności i wody, 2 października 1944 roku, po 63 dniach bohaterskiej epopei, dowództwo AK było zmuszone podpisać akt "zaprzestania walk w Warszawie". Do niewoli poszło ok. 17 tys. Powstańców, ok. 15 tys. poległo.
Straty wśród ludności cywilnej szacowane są od 150 do 200 tys. osób. Przez następne miesiące Niemcy metodycznie rabowali, palili i wysadzali w powietrze kolejne części naszej stolicy. Wycofali się z niej ostatecznie 17 stycznia 1945 roku, umożliwiając wkroczenie do Warszawy oddziałom podporządkowanego komunistom Wojska Polskiego.
Artur Kolęda
Biuro Edukacji Narodowej IPN
Wydarzenia, w których uczestniczy Instytut Pamięci Narodowej w związku z 75. rocznicą wybuchu Powstania Warszawskiego
CENTRALA
31.07.2019, godz 18.00 na Placu Krasińskich odbędzie się uroczysta polowa Msza Święta, Apel Poległych oraz Koncert "Warszawa jest smutna bez Ciebie". W uroczystościach państwowych Instytut Pamięci Narodowej reprezentowali będą zastępcy prezesa IPN dr Mateusz Szpytma i prof. Krzysztof Szwagrzyk
01.08.2019, godz. 17.00, Godzina "W" – hołd Powstańcom przy Pomniku Gloria Victis odda zastępca prezesa IPN prof. Krzysztof Szwagrzyk, natomiast o godz. 19.30, w uroczystościach składania wieńców na kurhanie, w którym znajdują się prochy ponad 50. tys. mieszkańców stolicy poległych w Powstaniu Warszawskim, modlitwie międzyreligijnej przy Pomniku "Polegli – Niepokonani"  uczestniczył będzie zastępca prezesa IPN Jan Baster
1.08 – 2.10.2019 – Akcja "Pokaż, że pamiętasz" – akcja internetowa polegająca na dokumentacji opieki nad grobami Powstańców
prezentacja wystawy IPN "Kwatera Ł. Panteon narodowy pod cmentarnym murem" na "Łączce"
audycje historyczne w Programie 1 Polskiego Radia, podczas których archiwiści z IPN opowiadać będą o wybranych dokumentach dotyczących Powstania Warszawskiego
wrzesień 2019 –  płyta "Dziesięć Kroków – Memoriał Warszawski 1944" – projekt fonograficzny Instytutu Pamięci Narodowej i Fundacji Sztafeta, dotyczący losów i przeżyć ludności cywilnej w czasie Powstania Warszawskiego oraz gehenny wypędzenia z Warszawy, wywózki do obozu Dulag w Pruszkowie i dalszej tułaczki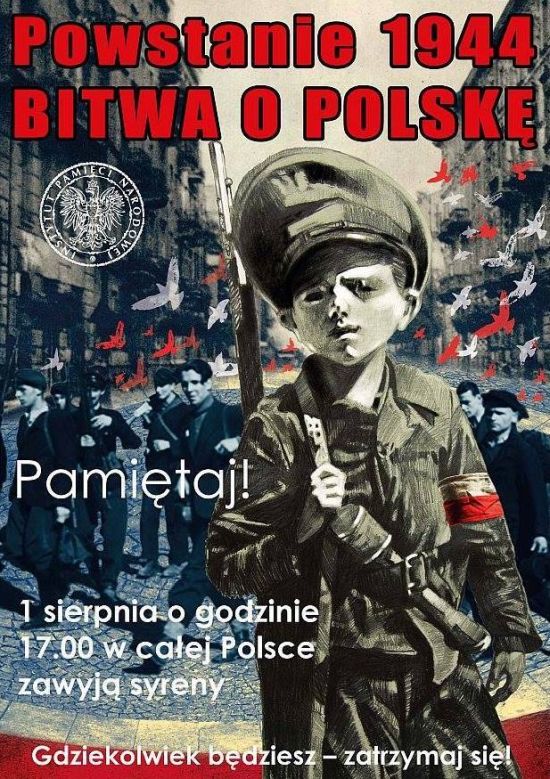 IPN BIAŁYSTOK
1 .08.2019, godz. 17.00 – uroczystości upamiętniające 75. rocznicę wybuchu Powstania Warszawskiego pod Pomnikiem Armii Krajowej
1.08.2019 – w centrum Białegostoku rozpocznie się akcja pocztówkowa. Pocztówki wg. projektu Delegatury IPN w Olsztynie będą rozdawane wszystkim spotkanym przechodniom
1.08.2019, godz. 19:00 – spotkanie w Rydzewie, harcerze spotkają się z powstańcami zamieszkującymi województwo podlaskie, opowiedzą młodzieży o swoich doświadczeniach i udziale w Powstaniu Warszawskim. IPN zaprezentuje filmy, które wpłynęły w ubiegłym roku do siedziby Oddziału IPN w Białymstoku w ramach akcji ,,Złóż życzenia powstańcom"
IPN GDAŃSK
1 .08.2019, godz. 10.00 – uroczystości upamiętniające 75. rocznicę wybuchu Powstania Warszawskiego pod Pomnikiem Armii Krajowej w Sopocie.
1.08.2019, godz. 17.00 "W"- u stóp pomnika Polskiego Państwa Podziemnego na Targu Rakowym w Gdańsku odbędzie się uroczystość organizowana przez Okręg Pomorski Światowego Związku Żołnierzy AK oraz Miasto Gdańsk.
IPN KATOWICE
IPN KRAKÓW
DELEGATURA IPN W KIELCACH
1.08.2019 – rekonstrukcja historyczna "Gloria Victis" – Godni Pamięci Powstanie Warszawskie 1944 – 2019
1.08.2019 – uroczystości upamiętniające 75. rocznicę wybuchu Powstania Warszawskiego pod Pomnikiem Harcerrzy Poległych na skwerze Szarych Szeregów
IPN LUBLIN
1.08.2019 – wokół budynku lubelskiego oddziału IPN zaprezentowane zostaną banery informacyjne dotyczące Powstania Warszawskiego
IPN ŁÓDŹ
22-31.07.2019 – na cmentarzach na terenie Łodzi, odbędzie się akcja "63 Dni Powstania Warszawskiego" – upamiętnienie Powstańców Warszawskich, poprzez oznaczanie ich mogił biało-czerwoną szarfą z napisem
30.07.2019 – w Piotrkowie Trybunalskim, na Starym i Nowy Cmentarzu Rzymskokatolickim przy ul. Cmentarnej o godz. 18.00, odbędzie się cykliczna akcja porządkowania mogił Powstańców i osób, które zginęły w Powstaniu Warszawskim
1.08.2019 – na cmentarzu rzymskokatolickim pw. św. Józefa, o godz. 17.00, odbędzie się uroczystość z udziałem dr. Dariusza Roguta, dyrektora Oddziału IPN w Łodzi.
1.08.2019 – w Piotrkowie Trybunalskim, po uroczystościach miejskich po godz. 17.00 odbędzie się V Piotrkowski Marsz Pamięci Powstania Warszawskiego, który uda się na piotrkowskie nekropolie, gdzie zostaną zapalone symboliczne znicze na mogiłach Powstańców
2.08.2019 – w Piotrkowie Trybunalskim, w Kościele Najświętszego Serca Jezusowego, przy Alei Armii Krajowej 9, o godz. 18.30, odbędzie się wspólne śpiewanie pieśni powstańczych z udziałem utalentowanych artystów (współorganizatorzy: Klub Historyczny im. gen. Stefana Roweckiego "Grota" w Piotrkowie Trybunalskim, Klub Gazety Polskiej w Piotrkowie Trybunalskim)
IPN RZESZÓW
IPN WARSZAWA
IPN WROCŁAW
6.08.2019 – Dzień Poczt Harcerskich – 75 Rocznica Wybuchu Powstania Warszawskiego i Utworzenia Poczt Harcerskich. W tym dniu odbędą się prelekcje historyczne pracowników IPN poświęcone Historii Powstania Warszawskiego i Historii Poczt Harcerskich
DELEGATURA IPN W OPOLU
1.08.2019 – prezentacja spotu o Powstaniu Warszawskim w Centrum Kongresowo-Wystawienniczym na tzw. Wieży (duży telebim) oraz w Opolskim Urzędzie Wojewódzkim
Źródło: IPN.GOV.PL
Zdjęcia: ipn.gov.pl